Mr. Rochester provided entertainment, laughs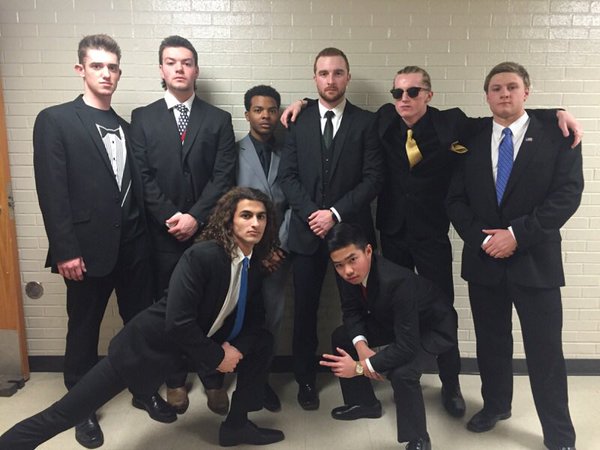 On Thurs., Feb. 11, eight handsome boys stepped onto the RHS stage to perform in front of their classmates and compete against one another to win the title of Mr. Rochester. The contest included three categories including: best pick-up line, talent, and questionnaire. After the judges' scores were tallied, the top four contestants were selected and the audience voted via text who would be crowned Mr. Rochester. As usual, this event was extremely humorous and entertaining.
The show started off with the wonderful co-hostess, Bre Weaver,beautifully singing the song "Fabulous" introducing each contestant. They entered the stage in pairs representing different parts of the songs and showing off their dance moves to the audience. Sam Wolfe and Jordan Sadler first appeared on the stage appearing as the "Ice tea imported from England," and then Austin Suttie and Karl Chidiac strutted in decked out in their Goldfish Swim School apparel as the "Lifeguards imported from Spain." Nick Drinkard and Kyle Matynka joined the rest of them on stage swinging their towels around as Bre sang, "Towels imported from Turkey." Lastly, Johnny Nguyen and Parker Jones jumped out with the line, "Turkey imported from Maine." To close, they all completed a silly dance routine together to show off their moves.
The first part of the judging began with the best pick up lines that the contestants were to find or make up on their own and recite to Sarah Song. Some of the contestants used lines that most of us have all heard of before, but others created their own hilarious ideas that really had the audience laughing. Mr. Rochester winner, Jordan Sadler, walked on the stage and dropped pennies all over the stage and while struggling to pick them up he said, "I'm not great at picking up pennies, so I'm lucky you're a dime." Sam Wolfe also had an entertaining pick up line when he had Gabe Collins run on to stage as a lifeguard after he had collapsed and exclaimed, "He's dying, he's dying, he's dying to get your number." Sam then awoke, winked and flirtatiously pointed at Sarah, which had the whole crowd laughing.
The second segment was the talent portion and each person had to create a performance showing off their best talent to the judges. One of the crowd favorites was Jordan Sadler's free style rapping to the crowd picked song "Love Yourself" by Justin Beiber, especially with his rewritten lyrics about RHS. He had everyone in the audience laughing when he jokingly sang about how the school can't afford to pay for heating and how our power goes out almost every day. It  was an excellent talent because, first of all, he was actually talented, and finally, it was a nice combination of hilarious and sentimental.  Another memorable performance was Karl Chidiac's creative dance to "Strangers Like Me" from the movie "Tarzan." He entered the stage with his crazy locks hanging down and dancing as if he were Tarzan with Dominic Cockell in a banana costume and Jake Grueling dressed as a gorilla. Many of his classmates refer to him as the character Tarzan around school because of his long, luscious, curly hair, so the audience found this performance extremely creative and funny.
The last part of the competition was the questionnaire, which is when all the competitors came out "dressed their best" in their suits, looking dapper as ever. Parker Jones surprised the audience with an unexpected, but hilarious giant fluffy coat, making him stand out amongst the rest. This portion is interesting because the contestants have to think on their feet because they have no idea what questions they will be asked. The pressure got to some of them because a few weren't able to come up with an answer to their question due to toughness or being uncomfortable with their mothers listening to their responses. The majority of them came up with funny answers that kept the audience entertained, especially Kyle Matynka humorously explaining how he would have gone on to play professional football if it hadn't been for his bum knee. He came up with another great response when telling everybody about his ideal date of picking up his lucky girl in his 2010 Ford Fusion and taking her to fine dining at McDonalds. This was the final part, so after each contestant answered their two questions, they went backstage to nervously wait for the results from the judges.
After adding up the scores from Mrs. Julia Satterthwaite, Mr. Todd Miesch and Ms. Sarah Monroe, the judges picked Karl Chidiac, Nick Drinkard, Kyle Matynka and Jordan Sadler. Then it was the audience's turn to vote for which contestant they thought should be the winner of Mr. Rochester. Jordan Sadler recieved the most votes and won the competition, making him 2016's Mr. Rochester.
The turnout was huge — there wasn't an open seat in the auditorium — and overall Mr. Rochester provided a fabulous night to enjoy with friends and family. It was a night to remember and a great event to kick off the celebration of senior season.
Q& A with this year's Mr. Rochester: Jordan Sadler
Before the show:
Q: How did you prepare for this?
A: Countless hours, blood, sweat, tears … I did everything I could and it's perfect.
Q: How are you feeling before the show?
A: I'm so excited; nothing can bring me down right now. I'm on cloud nine; I am ready to kill it!
Q: Do you think you're going to win?
A: (laughs) Obviously
After the show:
Q: How are you feeling about winning Mr. Rochester?
A: I feel excited,. I knew I was going to win, so it wasn't that big of a shock. It was great though.
Q: What was your favorite part of being in Mr. Rochester?
A: Probably the questionnaire because you didn't know what they were going to ask and it was exciting to have to make up an answer on the spot.
Q: If you could change anything about it? Like what you did or how you prepared?
A: Nothing, I loved every piece of it.