About The Talon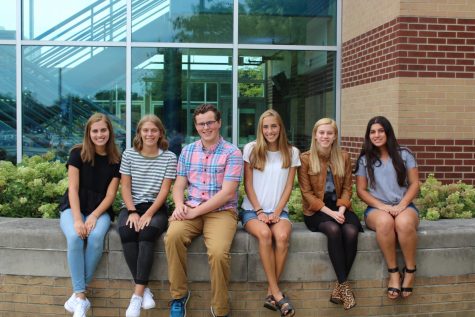 The Editorial Board
From left to right: Zoe Sawdon, Bianca Mow, Noah Peterson, Elizabeth Bulat, Violet Resh, and Mariam Hanna.
The Talon is the award-winning, student-run newspaper at Rochester High School. The Talon earned Spartan Awards, the top honor in the state, from the Michigan Interscholastic Press Association in 2010, 2011, 2012, 2014, 2015, and 2016. In addition, in 2013 and 2015, The Talon earned top honors in the nation when the staff received a Pacemaker Award through the National Scholastic Press Association.
Each month, The Talon staff strives to produce high-quality, informative news, feature, entertainment, opinion and sports stories that are relevant to students at RHS, as well as the Rochester community through print, web and social media coverage. For more great coverage, check out @therhstalon on issuu, @falconsofrhs on Instagram, @rhstalon on Twitter and like The Talon of Facebook.
The 2018-2019 Staff
Adviser: Mrs. Aleah Facca
Editorial Board:
Editor-in-Chief: Elizabeth Bulat
Copy and News Editor: Violet Resh
Feature Editor: Zoe Sawdon
Entertainment and Lifestyles Editor: Mariam Hanna
Sports Editor: Bianca Mow
Business Manager and Web Editor: Noah Peterson
Staff Writers: 
Wyatt Anness
Devin Toma
Aryn Gallacher
Alex Glaspie
Kate Breitschuh
Collin Kilpatrick
Megan Belz
Colin Alison
Summer Rawashdeh
Preston Schroyer
Raghda Romaya
Chad Dazo
Rahi Shah
Fazil Hussain
Pooja Patel
Israel Rosas
Ava Biordi
Megan Splan
Maggie Rhymstett
Javionna Davis
Maggie McDonald
Kari Eickholdt
Michael Arsenault
Sanya Gupta
Sharan Shibu