Check out five TV shows worth watching this fall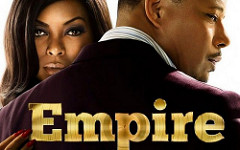 1. Empire
Genre: Drama
TV Network: Fox Network
Rating: 7/10
Main actors/actresses: Terrence Howard, Taraji P. Henson, Jussie Smollett, Bryshere Y. Gray and Trai Byers
Premise: Empire is a show about a fictional hip hop company that is owned by a family that constantly fights to control the growing company. When the current owner of the company comes down with Lou Gehrig's disease, he must pass the company down to one of his three sons. This pits them against one another.
Review: Empire is the show you need to watch. Even if you don't like hip hop, the betrayal and backstabbing from each character will keep you on your seat until the very end. Plus the struggle within the family relates to most families. Also, the music industry is m

Loading ...

ore accurately depicted in Empire.

2. Scream Queens
Genre: Horror, Comedy
TV Network: Fox Network
Rating: 6/10
Main actors/actresses:  Emma Roberts, Lea Michele, Skyler Samuels, Glen Powell and  Keke Palmer

Premise: Scream Queens is show about a sorority that is threatened when a 20 year old mystery is reignited. Soon after, a red devil appears and kills off many sorority members  — not stopping until they're all gone.

Review: Although it is made by the same creator of American Horror Story, the atmosphere of the show is anything but. Despite that, the show has much potential and continues to find new ways of pulling people into the show.

3. American Horror Story
Genre: Horror
TV Network: FX
Rating: 8/10
Main actors/actresses: Lady Gaga, Evan Peters, Sarah Paulson, Wes Bentley and Kathy Bates

Premise: The Hotel Cortez has caught the eye of a homicide detective. After coming to investigate, he finds himself losing his mind. The bizarre antics of the hotel patrons have caused a great disturbance in the hotel, accompanied by the mystery of killings and vampires.

Review: Although so far this season isn't a favorite, it still is a great show. The creepy atmosphere and thrilling plot will keep you hooked. This new season brings the old thrills and chills back. Warning: this show is not for those with weak stomachs.

4. Blindspot
Genre: Crime Drama
TV Network: NBC
Rating: 7/10
Main actors/actresses: Sullivan Stapleton,  Jaimie Alexander,  Rob Brown and Ashley Johnson

Premise: When a mysterious woman with tattoos all over her body wakes up in the middle of Time Square in a duffel bag, people start asking questions. She doesn't know where she is and how she got there. The tattoos on the body begin to connect to crimes and the FBI begin to use the woman's tattoos as clues to crimes.

Review:  This show doesn't disappoint from the start. The strange combination of tattoos and mysteries works. Also, it is a good twist from the normal crime shows. This show will keep you wanting more and asking questions.

5. Blood and Oil
Genre: Soap Opera
TV Network: ABC
Rating: 7/10
Main actors/actresses: Scott Michael Foster, Amber Valletta, Chace Crawford, Don Johnson and Rebecca Rittenhouse

Premise: A young couple looks for cash in the oil rich North Dakota. This leads to them dealing with the sadistic, tycoon family of the Briggs.

Review: Soap Dramas may not be your cup of tea, but this show brings a more modern take on most business and family problems. This show will keep you asking questions and wondering what will happen next. If you like Soap Operas, this will really interest you.