Holiday Traditions
Falcons share their cultural and family holiday traditions
Mariam Hanna, Lifestyles & Entertainment Editor
December 20, 2018
Every Christmas morning, sophomore Eliza Farrell and her family open presents before making the four hour drive to Petoskey, despite the snowy weather. There, they have Christmas dinner with Farrell's maternal grandparents and enjoy what northern Michigan has to offer, such as snow hiking, skiing and watching movies at the local theatre.
Families all around the world, and, more locally, at Rochester High School, celebrate a variety of fall and winter holidays. Among these holidays are Thanksgiving and Christmas, and there is an abundance of both family and cultural traditions to celebrate these seasons.
"On Christmas Eve, we go around and sing carols," said junior Regina Cabrera. "Half of the people are outside and the other half are inside, and we sing to them. [On Christmas], we have dinner, then we sing to the nativity, and on the morning after Christmas, we put the baby Jesus around a blanket."
As exhibited through her family's caroling tradition, Cabrera does not let Michigan's cold and snowy weather stop her and her family from enjoying the holiday season.
"Singing carols is fun because its cold, but you're having fun so you don't really notice it," said Cabrera. "It's fun, and it brings the family together."
Cabrera has a Mexican background, so many of her family's holiday traditions come from her roots. Although her family does not participate in all Mexican traditions over the holiday season, she does know of a couple that others in her community do partake in.
"Sometimes, this is something some people do, you grab a suitcase and you run around the house with the suitcase," said Cabrera.
For Farrell's family, Christmas festivities begin on Christmas Eve, not Christmas day. She starts the holiday off by celebrating mass at St. Phillips Episcopal Church and partaking in the annual play.
"[On Christmas Eve,] I go to church, and normally, my church puts on a Christmas pageant," said Farrell. "Normally, me and some of the other members of my youth group do it and take on more of the main roles, and then we help the younger kids fill in with small roles, like extra angels and shepherds, and things like that. Everyone dresses up really nicely for the Christmas Eve service, so everyone looks really cool and pretty. Its pretty at my church, too, because we have a huge tree."
Notwithstanding the long, snowy drive to Petoskey, Farrell's family takes every Christmas morning, Farrell is fond of the city, especially during the holiday season.
"It's always really magical when you're up there," said Farrell. "It seems like something you'd see in a movie because the whole town is lit up, but not like the downtown Rochester lights, but like those ones you see in Hallmark movies."
Compared to Farrell's Christmas traditions, her and her family's Thanksgiving celebrations are less busy and structured.
"For Thanksgiving, most years I end up going to my aunt's house," said Farrell. "Me and all my cousins on my dad's side, which there is a lot of us because they are a family of five siblings so we all go over to their house
and have a good time. It's always fun to have turkey, stuffing, green bean casserole, and stuff like that just heartwarming food."
Similar to Farrell, junior Nicole Savaya celebrates Thanksgiving and Christmas, and her family's festivities usually include spending quality time together and eating cultural food.
"[We typically eat] patcha on Christmas," Savaya said. "Patcha is a Chaldean food that is usually made for holidays. It consists of rice and meat, and you put lemon on it and it tastes so much better."
For Savaya, being with her loved ones over the holidays is significant and special.
"I love my family and I feel it's important to spend as much time with them as possible because you could possibly regret not [spending time with them] in the future," she said.
Although many individuals and families celebrate winter and fall holidays, not everyone does, and, according to sophomore Zoya Bangash, one does not need to to enjoy the season.
"We spend most our holiday break with our cousins nearby," said Bangash. "We don't usually see them often, so it's fun and full of joy when we do. We [also] don't have much family around, so we try to keep in touch with them as often as we can."
Bangash's family is orginally from Pakistan, and their culture in embodied in the food Bangash shares with her family over the break.
"We usually make a huge dinner and lunch for all of us to eat," she said. "It usually consists of rice and some kind of meat. This tradition started when my family and my uncle moved to the USA after they've lived in Pakistan for their whole life."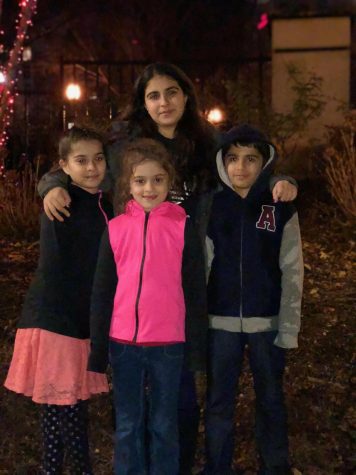 Of course, students are not the only ones who have special traditions for  the holidays. Many teachers everywhere and at RHS, such as english teacher Ms. Jessica Sherburn, have different ways to celebrate the season.
"On Thanksgiving, my siblings all gather at my mom's house for a big, delicious dinner," said Ms. Sherburn. "My mom spends most of the day cooking with some help from 'the kids'. It's weird to think that we are all adults now! My job as the youngest child has always been to help make the stuffing, whereas my older siblings have had more sophisticated jobs like baking pies."
Ms. Sherburn's family has both new and old traditions, and one that they have had in recent years is what they do during Thanksgiving dinner.
"Dinner is a time for us to reflect on things we are thankful for and to stuff our faces," said Sherburn. "In recent years, we have been more reflective about the origins of Thanksgiving and how important it is to spread an awareness of both Native American history and the lives of contemporary Native Americans."
Similar to made other families, food is a big part of Ms. Sherburn's family's holiday celebration.  Some of the dishes her family makes comes from their German ancestry.
"On Christmas morning, we open presents, then spend the rest of the afternoon cooking," said Sherburn. "My mom always makes three dishes: almond puff, a sort of breakfast pastry, and kuga and pear bread, both of which are German dishes that my grandmother used to make."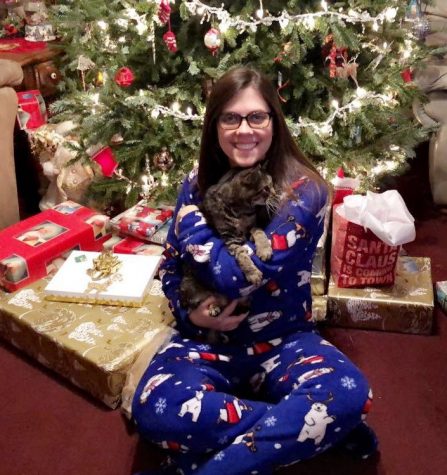 Bangash, Cabrera, Farrell, Savaya and Ms. Sherburn's traditions all encompass their families, and family is significant to each one of these Falcons.
"[These traditions are] nice because I get to see my grandparents in Petoskey because they are two of the funniest people I've ever met in my life," said Farrell. "Basically, they just help me remember how important family is to me and give me more memories with them."