BRIEF: Mr. Beach wins Varsity Brands National Athletic Director of the Year award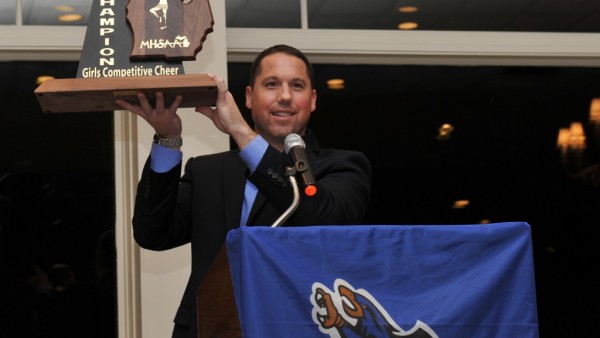 Mr. Luke Beach was recently awarded Varsity Brands National Athletic Director of the Year for 2017. The award was announced on May 15 in Disney World, and the event was live streamed for those who couldn't attend. Mr Beach was selected based on his work with the Captains Club, the Women's Leadership Club he started, and the events he organized following the passing of Gage Garmo in 2015.
"It was very humbling and rewarding," Mr. Beach said. "To know that your students acknowledge that you are giving them a wonderful experience is very rewarding as an athletic director."
Mr. Beach was selected to represent the best athletic director in Mich., and then won the next round to represent the Midwest. From there, he advanced to the final round, which consisted of a Final Four. He declined the invitation to the actual event and instead celebrated the nomination and eventual win at home.
"My wife and I hosted a small party to watch the awards show that was live streamed," Mr. Beach said. "When the results came across the screen we wanted to celebrate really loudly, but my daughter was asleep so it was a quiet celebration."
A student needed to write a short essay about the successes and admirable qualities of the nominee in order to be in the running for the award. Mr. Beach was nominated by Senior Chris Crawford.
"Knowing that he [Chris] feels the way he does about me is far more gratifying than the award," Mr. Beach said.
Mr. Beach plans on continuing to reach his goals and hopes maintain a good environment for athletics at RHS.
"I want to continue to build strong relationships with my student-athletes and coaches, and give them the best experience possible," Mr. Beach said.