Review: Apple Store's Top 5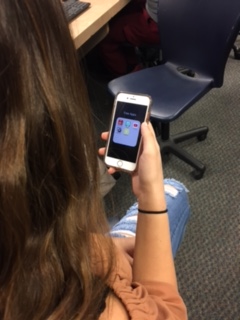 1) Super Mario Run
Super Mario Run is a game based off of the super mario games by nintendo. In order to play the first three levels and minigames, one must have or create a Nintendo account. To continue playing, it costs $9.99, which comes with 20 rally tickets. The tickets can be used in the toad rally, where players run against each other, trying to do the coolest tricks successfully, convincing the toads to join your kingdom. The package also comes with 3000 coins and a mystery block. While the game is fun, from playing the first three levels, it is not worth paying $9.99.
2) Bitmoji
Bitmoji is an app where the user can customize an emoji to look like them. There are two styles to choose from, Bitmoji (more cartoon-like) and Bitstrips (more realistic). Customization options include skin tone, hairstyle/color and tons of amazing outfits ranging from Forever 21 to Steve Madden. When you use the Bitmoji keyboard, users can send friends and family numerous amounts of messages, from greetings to funny messages. The app is completely free and very fun.
3) Youtube
The youtube app is a convenient and easy way to use mobiles for watching and/or posting youtube videos. Sign in with your youtube account, and you can post or simply watch videos very easily. The trending section displays videos that have been popular recently, from politics to funny videos. This free app provides easy access to your subscriptions and allows you to set up notifications for your favorite youtubers.
4) 8 Ball Pool
8 Ball Pool is a game where users can play pool on the go. The app offers five different ways to play, including one on one, Tournament, Mini games, With Friends and Offline. In one on one players can challenge others online. Enter Tournaments to win trophies and exclusive cues, and play mini games with Surprise Boxes, Spin and Win, Scratch and Win and Hi-Lo. All of the mini games are means of collecting more coins. When connected to Facebook the app allows players to "Play With Friends" where they can play online with their Facebook friends. In the offline section there are two ways players can play. Pass n' Play allows you to play with friends by passing the device back and forth and Quick Fire allows you to play a minigame with the goal being to pot the balls as fast as you can before the two minute time limit is up. This free game is a great way to waste some time, while having fun.
5) Snapchat
In a high school mostly populated by teenagers, Snapchat is a well-known subject. The app allows users to send photos with messages to individual people/groups, or post to their stories to allow all of their friends see their photos. Snapchat provides users with tons of cool filters that change around depending on the season, and usually get changed around and updated every week or couple of weeks, excluding the few constant ones like the dog filter, the flower crown filter and many more.