Electives to Consider at RHS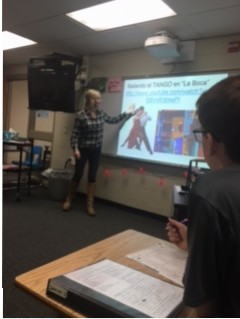 As scheduling begins at RHS the ongoing debate on what classes to take ensues, especially in decisions regarding the students treasured electives. There are a variety of classes to choose from and many fears they will choose poorly and end up in class they hate. There are many things that students should look for when choosing an elective that will likely increase the likelihood of a good experience.
"I always suggest that students think about what their after high school goals are," counselor Ms. Caggins said. "So if it's college, if it's a particular career they have in mind, [I suggest] that their electives are always geared towards whatever their plans are after high school."
It certainly seems likely that if someone wants to go into a career then taking an elective that develops the skills required for that career would be wise. There are also other things to consider when choosing an elective.
"Students should look at what their strengths are and what they feel they have the ability to do, also taking a class they enjoy will go into having a good experience in an elective class," Ms. Caggins said.
It appears there are a few electives that seem like they can do no wrong, which are enveloped in popularity and should definitely be considered.
"Cuisines was definitely my favorite elective," junior Scott Mattox said. "It was very enjoyable, the class isn't very demanding but you learn a lot of cooking techniques which is a skill that you'll need when you are living alone."
The food department has been filled with praise and generally is an area where many students find enjoyment in the electives provided.  
"I really liked cooking because of the food we made and my class was fun," sophomore Nina Crocenzi said. "My favorite part of cooking was learning to make all different foods and getting to eat what we made."
It seems that the food department is definitely a popular department if you are torn on what to take in the following years. However, the social studies department is also very popular with classes such as Practical Law.
"If they are a social studies student practical law is usually a really popular class taught by Mrs. Bettes," Ms. Caggins said.
Practical Law is a popular class at Rochester, especially for anyone who really likes Social Studies. 
"Practical law was fun because you learn a lot of interesting things about law that you never knew," Crocenzi said. "You also get to see presentations from people who have jobs in the law like a K9 officer or Federal Air Marshall, etc."
While the Social Studies and Foods departments are common options, Spanish is also a class many take. For students at RHS, at least two years of language is required to graduate, and with that colleges also look at language courses when looking at who to accept.
"I'm in Spanish two with Mrs. East, it's a really fun class," freshman Ryan Hegarty said. "Colleges definitely look at classes like Spanish and considering this it's definitely worth it to take it."
According to Hegarty, on top of looking good on college applications, Spanish is also just a fun class to take.
"Spanish is a great class. Mrs. East makes it really involving and generally enjoyable for the students," Hegarty said. "It's also nice to think that what your learning will have important real life applications for its use."
In the end Rochester is full of a myriad of electives to take, and while classes such as Spanish, Practical Law and Foods have become very popular, one should always remember what they want to do after high school when choosing an elective.
"Look for the career goals you have in place, so if you want to be an engineer take an engineering class and things like that," Caggins said. "I think electives are more geared towards what the students want and what they want to do after high school."