BRIEF: Transitioning from the ACT to the SAT is a daunting task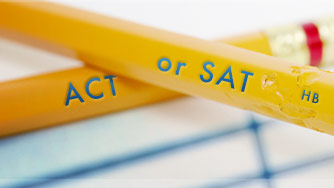 The transition from ACT preparation to SAT preparation is underway, from classroom discussion and skills to taking the PSAT.
Counselor Mrs. Kelly Messing-Mirabito recaps the general differences that students should consider.
"One big change is that in the old SAT testing, there was a penalty for guessing; you missed a quarter of a point," Mrs. Messing-Mirabito said. "There will be no penalty on the new SAT for guessing." 
The format of the new test has been revealed and students are encouraged to look at practice tests.
"The test includes reading, writing and language, and the optional SAT essay, which our students will all be taking," Mrs. Messing-Mirabito said.
General scoring for SAT formats is also a common topic of confusion for students who have the SAT in their future.
"The score is between 400 and 1600," Mrs. Messing-Mirabito said. "They're going to have a score for social studies and science, even though there's not a social studies or science portion like we had on the ACT. They're going to take it into reading, so the reading is going to be science related or social studies and they'll come up with a subscore for those two areas."
All in all, the change in testing has become a worrisome subject for many students, but Rochester administration ensures that the process will be as smooth as possible and will provide as many tools as possible for students to succeed, as counselor Mrs. Messing-Mirabito said. 
"I think it's going to be an adjustment for all of our students," Mrs. Messing-Mirabito said. "They can go onto Khan Academy and take practice tests which will help prepare them and help be more familiar with it. There's also the PSAT and those results should come out in December so students will be able to see their strengths and weaknesses and go from there."