What's Cooking?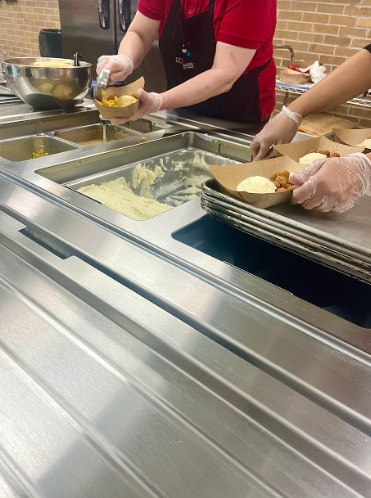 A lengthy line wraps around the cafeteria as RHS students anticipate the most delicious time of the day. Having lunch prepared at school is a luxury that students often look past. Yet, they're always eager to file into a line with their hungry peers. I'm not embarrassed to admit that I have the school lunch menu bookmarked on my computer, and I know for a fact that school lunch will go down as one of my favorite parts of high school. No matter the day, my friends and I are always greeted with a warm smile by the Rochester High School lunch staff. Behind those smiles, however, is a bounty of work that goes unseen.
Fabiana Paschoal is the supervisor of the Rochester High School lunch staff and has been working at the school for almost 3 years. Paschoal enjoys her job and providing for the students daily.
"I have a place to work and we're happy to serve," Paschoal said. "We always make sure that the food is safe enough for everyone." Whether it be meals packed with nutrition or fried American classics, the RHS cafeteria offers a variety of meals to choose from.
"I always push the healthier options," said Paschoal. "My favorite things to make are salads, wraps and bento boxes." The most popular meals among students, however, are the more unhealthy meals. This includes all of the sandwiches, pizza, popcorn chicken and the breakfast meals. However, the most alarming thing that Paschoal had to say about lunches was not about what kind of meals are made, but how many are made.
"Every day we're between 400 and 500 meals per day," said Paschoal. The amount of work that the RHS lunch staff puts in is truly astounding. So the next time you forget to thank the person behind the counter for serving you, think about the effort and care that makes lunch at RHS worthwhile.