Annual Michigan v.s. Michigan State football showdown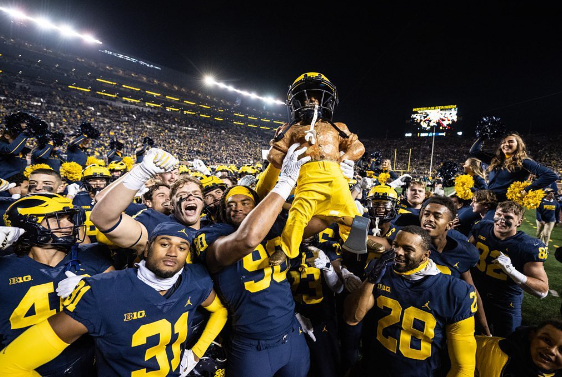 Every year at the end of October, comes a state rivalry that brings two sides of sports into one game for a glorious victory and of course, bragging rights. Coming straight out of East Lansing and Ann Arbor, Michigan, are the Michigan State and Michigan Football teams. Both teams and their fan bases fight for the rivalry win each year with the added glory of taking home the Paul Bunyan trophy. After two years in East Lansing, Paul is returning back to the victorious Michigan Wolverines.
This historic game goes back over 100 years ago to 1898 where the two teams met and faced off for the first time. Michigan took an at home blowout win with a final score of 39 to 0, and continued to prove their dominance for the next 14 years until State came into the picture with a 12 to 7 victory. Since then, the match up went back and forth nearly every year, and increasingly became a more intense rivalry as years went on. To this day the Wolverines have an all time record of 72 wins and 38 losses, along with 5 ties against Michigan State. Although Michigan has an impressive all time record, the Spartans shouldn't be underestimated with their recent record of 10 and 4 in their last 14 games against Michigan. This historical match-up is known to be exciting and unpredictable. 
This year, the Spartans of Michigan State traveled to the all mighty Big House in Ann Arbor to face an intimidating challenge under the bright lights and cheers of a whopping 107,000 Michigan Wolverine fans. Michigan stepped onto their home field with an undefeated record ready to continue to prove their talent. They were certainly going to be a tough challenge for Michigan State, providing a strong defense that only allows 12 points per game, on top of an explosive offense scoring 41 points a game. The underdog Spartans hardly compare to the statistics of the Wolverines but were hungry to prove they could continue their winning streak against Michigan. Michigan State went into the weekend with a 3 and 4 record on the season, coming off of a needed victory against the Wisconsin Badgers. These pregame statistics made for a 23 point Michigan favorite predicting an easy victory. 
Through it all the Spartans were no match for the undefeated Wolverines as they proved their domination and kept their undefeated reign alive with a final score of 29 to 7.
"I thought our guys played great. They took care of business on both sides of the field and had great physicality and dedication". Said Michigan Head Coach Jim Harbaugh during the post-game press conference.
Michigan cruised their way through the game limiting the Michigan State offense to 19 minutes total possession time. During the 40 minutes Michigan had on offense, they were able to gain 443 total yards. Star Michigan running back Blake Corum was a major factor in their win, as he ran for 177 rushing yards with 33 carries, and gave Michigan one of their 2 touchdowns. Quarterback JJ McCarthy led the way completing 15 of his 25 passes for 167 yards, and also had 50 rushing yards. 
"Our defense was the key to the game. We had all out blitz pressure and were able to stop them on fourth down and get the critical stops, especially when they got within our ten yard line". said Harbaugh
The Spartans weren't totally helpless in the game and played well on the defensive side, limiting Michigan to only 2 touchdowns with 5 forced field goals.
"The guys played hard, we balled up in the red zone and that's what we needed to do to keep them to lower numbers". Said Michigan State Head Coach Mel Tucker during the post-game press conference
The team ended with a total of 84 tackles and 48 solo player tackles. Before the fall of Michigan State in the 2nd half, they had a good offensive passing game going. Wide Receiver Keon Coleman showed up for the Spartans with 155 receiving yards with only 5 receptions, creating a 31 yard average per reception. Junior Quarterback, Payton Thorne, led Michigan State in their pass offense completing 17 of his 31 passes for 215 yards, also giving the team their one touchdown in the first quarter. 
"We needed to continue to chop in the second half, and we didn't do it", said Tucker. 
 Obviously we are very disappointed, and for the players," said Tucker. "But we're going to come back tomorrow and get back to work". 
Whatever the outcome was for either team, both played for the love of the game and the fun of the rivalry. 
"The game might be more stressful for the people watching than the actual players," said Michigan State Safety Xavier Henderson. "It's football at the end of the day, and rivalry games are fun to play. We just try to enjoy our time on the field together, win or lose". 
Both teams are ready to put this game behind them and focus forward on the future. But the Wolverines get to enjoy it with the accompaniment of Paul Bunyan.