The latest trends in teen style
Why you should get them and where you can find them
The most recent trends in teen style are always changing. From the "VSCO" era of 2019, to our current "Y2K" (young 2000s) inspired style: it's difficult to predict what the next "it" look will be. A trend is defined as "what's hip or popular at a certain point in time." The most popular clothing items and accessories can be found in our very own RHS mall, a place where many students have been seen sporting the latest styles, and reveal where you can get them too.
The most common trends can be spotted nearly anywhere, whether it be on your Tik Tok "for you page" or in the halls of school. It's very easy to find more than one person modeling a certain piece. The question is: where can you find these trending pieces? Senior Erielle Ocampo is a proud owner of the popular platform high top converse.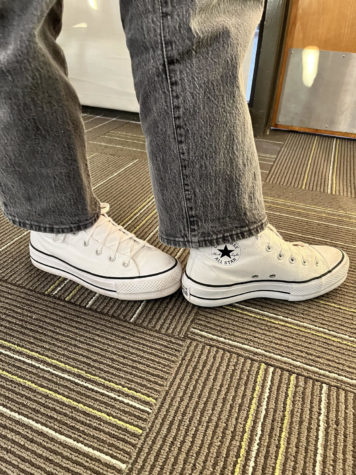 "I got them from converse.com," Ocampo said. The specific style of converse is extremely hard to come by, as it sells out very quickly. Therefore, Ocampo was very happy after making her purchase. "They give me a 2-inch boost," Ocampo adds. "They make me feel taller, and they're so comfortable." If Ocampo's rave about the shoes hasn't sold you already, head on over to the Converse website and be sure to keep pressing the refresh button. 
Another popular accessory among teens is acrylic nails. Acrylic nails with a bright color or bold design are a fun way to express oneself. Take student Jade Mclellan, a junior that always has the most up-to-date nail art. She recently got her nails done for her 17th birthday. 
"I got them done at Creative Nails Too," Mclellan said. Located in the Village of Rochester Hills, Creative Nails Too is a nail salon with a very calming atmosphere. It's a great place to go if you're looking to get a fun nail design. "I like them because they matched my birthday dress," Mclellan added. Mclellan's pearly white and light green nails were the perfect match to go with her green birthday dress.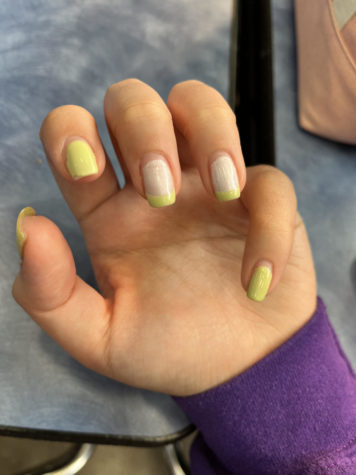 If you're looking for the new hottest clothing staple, look no further than a pair of black flare leggings, formerly known as "yoga pants." Flare leggings are versatile pants that can be dressed up or down. You can wear them with a sweatshirt for a more comfortable outfit, or dress them up with a nice top or sweater. Junior Makenzie Paul sports these pants weekly. 
"I got them from American Eagle," Paul said. American Eagle is a popular store for teen clothing. Their clothes are always up to date with the latest trends. "I like them because they're pretty comfortable and also very fashionable," Paul said. Along with American Eagle, you can get flare leggings at other stores such as Hollister, Old Navy, etc. Flare pants are one of the many "Y2K" inspired pieces, as they were also very popular in the early 2000s.
Claw clips also fit the Y2K category. With a variety of sizes and colors, there are endless ways to wear a claw clip.  Claw clips can help to keep some of your hair back, or even all it. They're a stylish way to keep hair out of your face, while still looking put together. Freshman and German exchange student, Emma Appel, loves her claw clip. 
"I really like the color," Appel says. "I think that it's useful and looks good," she adds. "I think that I got it somewhere online… I'm not sure," she adds. Although the place where Appel got her claw clip is unknown, you can purchase them almost anywhere. Go to any hair accessories section at a store, or even your mom's bathroom. 
Whether these style trends plan to stay or not is up to the future. For now, we can admire everyone's style, even if it isn't "trendy." Keeping up with the trends or not is completely up to someone's personal style.