Likefest: the new Lovefest
As the curtain closes on the fall musical, a new chapter opens for opportunity for the members of the RATS theater program. As auditions and recruitment buzz through the air of the auditorium walls, the season of Lovefest takes the stage.
This year's performance however is a little different compared to previous years. Due to Covid, this year the three high schools (Adams, Rochester, and Stoney) decided to put together a mini festival as opposed to going to Bay City to perform. The performance this year is called The Last Day Of High School, and will be taken to Adams High School to perform. 
Although there have been modifications to this years performance, the background history to Lovefest is still a very interesting topic to learn about.
"The official name is the Mid- Michigan Theater Arts Festival, but it's always been known as lovefest," Theater Director Mr. Gollon said. "The director that started it, about 27 years ago now, Tom Smith at Garber High School in Essexville (which is just outside Bay City) was competing in the state One- Act Turnominte that was run by the Michigan Interscholastic Association. Rochester used to do that many years ago, the problem we were having as directors was that we don't see theater as a competitive sport. Theater is something that you perform for people, and so what was happening was that we would go to these ternamints and oftentimes you would get judges who just did not have much of a theater background and their adjudicating of the productions was all over the place. So he was tired of his students going to these festivals and having a judge would just totally rip on their show, and the idea of kids in tears was not the idea of theater that he wanted to be. So, he decided to create just sort of a festival and any schools that wanted to come would come, and he would get college professors to adjudicate and you would get evaluated feedback on your production. But he just wanted it to be a true celebration of the performing arts. So then what started as a small group grew up to a two day festival with 16 different schools from across the state. He also incorporates his dance team to open the festival and his jazz band to end each festival and it's just a true celebration of theater. So really Lovefest, the whole name, is just that. It's a festival for people who just love the theater arts."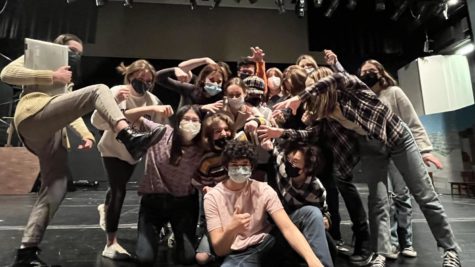 The love for this festival is spread out amongst the students who participate, Assistant Director Alison Sousa can confirm this statement from recent interviews. 
"I always enjoy working with the actors," Senior and Assistant director Allison Susoan said. "I've been in the cast before so this is my fourth year working with some of these people. Everyone is so nice and are very hard workers. They are very compliant, welcoming, and respectful. I love the environment of the theater. I've always been close with the cast but I've grown to know the crews as well since directing Elf. I plan on going to college for film directing, and the more I enjoy my RATS experience, the more excited I am for the future."
With all of the planning and organization can come certain conflicts and stressors with putting together a show/ performance.
"Predicting COVID's impact is extremely stressful," Senior and Assistant director Allison Susoan said. "With this new variant, case's rising will determine if we go to Love Fest. Not only that but worrying about the actors' health, if they get COVID they can't be in the show."
Another challenge that one would face, is being able to take the show on the road and being able to move set pieces in a truck.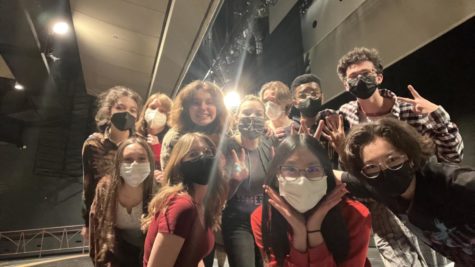 "This one is very different because this one[show] we have to take on the road," Theater Director Mr. Gollon said. "So in terms of play selection and all of the design elements we have to keep that in mind. It has to be stuff that can be disassembled, loaded into a truck, taken to a location, and then we have a time limit that we have to work in and then along with clearing the stage. So that is probably the biggest challenge. [A joy and challenge is] one of the same, it's the actual loading of the truck, loading up the bus, driving up there, and just the logistical things. Ya know we go to the hotel first, then we go to the school and we watch a whole slate of shows[productions] on that Friday. Then Saturday is our day to perform, we're up and unloading our truck and then waiting for our time. And then once our time arrives, you're on the clock so as soon as they say okay the stage is yours. You're loading everything in and every detail being set, not just the set itself but all of your lighting and sound and all of that has to be moving very very efficiently. Then when the show is over we literally have to race to clear everything out so that the next show can come and perform. So it's high stress at all times but when it's all said and done it's a great experience."