Rochester United Hockey
Rochester and Adams unite on the ice
The puck drops on the home rink at Suburban Ice, as the boys in navy and yellow glide on the ice with a hockey stick in their hands.
Rivals in other sports but united in hockey. The Rochester United hockey team, also known as RU, strengthens their bond for another season, with great support within the team. They have had a fluctuating season so far, with six wins, eight losses, and one tie.
"The season so far is going well," senior captain Shane Arbour said. "We had a slow start, but once we got back from Houghton for our bonding trip, we've been able to pull off some wins to teams that looked down on us, like M1 and Dakota."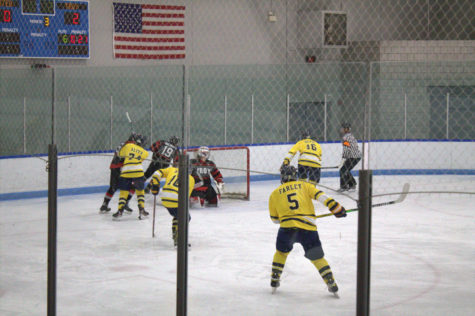 The team currently stands in the red division, along with their biggest crosstown rival, Stoney Creek. They have four more games scheduled for February, with two being home at Suburban Ice Rochester and two away.
"I am excited for the rest of the season," Arbour said. "The boys have really become a close group and even the underclassmen are keeping seniors responsible for their actions. Our goal for the rest of the season is to secure the win against Stoney for senior night and then win the regional finals."
First year varsity player Gavin Brown agrees.
"I think going into our second half of the season we feel stronger as a team and as a group, with everyone starting to play their role and come together we are going to have a stronger second half," Brown said.