Quiker Company
RCS parent gives back to the community with mobile service
Quick and convenient service is what people need, especially when they are on a tight and busy schedule. 
Quiker, a car repair and maintenance company, partnered with the RCS Foundation to help the community out with an affordable mobile service. This startup offers quality oil changes, mechanical repair, and ongoing maintenance services straight to your chosen location. 
"Rather than having to take time out of your day to go to a dealership or repair shop, you contact us and we conveniently come to a location of your choice! It can be your home, place of work or while you are doing some grocery shopping!" Alex Vandervert, founder of Quiker said.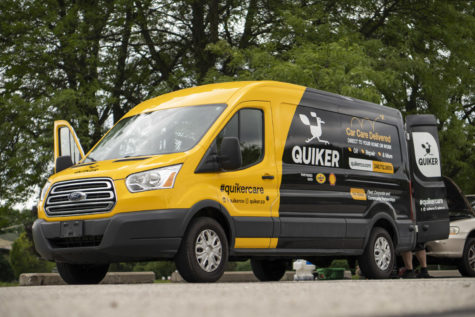 Quiker offers a wide variety of services. The most frequently requested services include things such as oil changes, brakes, windshield wiper replacements, starter replacements or tune-ups. In addition, the company provides repair and maintenance services to commercial fleet accounts. They also have employee benefits for those who work with certain companies that they partner with, such as Pennzoil and Shell.  
"On a last note, we are working on a pretty big project in conjunction with a large tech company to create our own predictive maintenance scheduling platform," Vandervert said. "We have dubbed it as VMaaS (Vehicle Maintenance as a Service). Without going into too much detail, we will be able to contact our customers to notify them about upcoming vehicle maintenance issues before they happen. We really want to think ahead of what vehicle maintenance could and should look like!"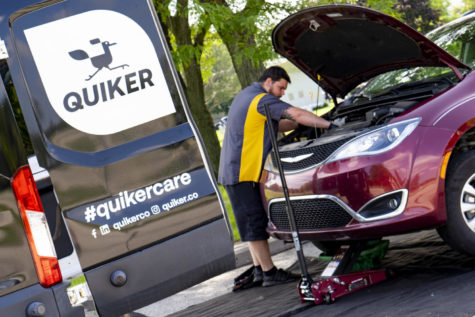 The idea was brought up when everything was shut down, during the early stages COVID. In December 2020, Quiker was established and operations started April 2021.
"Carolyn Espinoza, one of our co-founders, was needing some work on her vehicle but was uncomfortable with the idea of going into a dealership at that time," Vandervert said. 
Vandervert has had previous experience within the waste management industry and was familiar with fixing trucks that break down on routes and have them running again. 
"That was over 7 years ago, but surely in this age of Uber and Doordash where everything can be delivered to you then there has to be a mobile mechanic company of sorts," Vandervert said.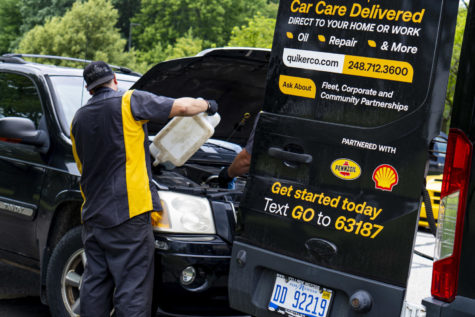 After realizing the lack of mobile companies, Vandervert and Espinoza decided this was a perfect opportunity to bring in this new service to the Metro Detroit Area. 
"So we began creating a business plan to justify the case for starting Quiker and the rest is history!" Vandervert said. 
Vandervert is a resident of Rochester Hills who has children enrolled in RCS schools. As a parent, he saw how much effort teachers put into their students. In return, he wanted to give back to the community in a significant way. 
"We invest in our most valuable assets, our employees, and make sure to give back to the community. So when we were creating this proposal for RCS, not only did we decide to give huge discounts to the RCS family on our services, but also give back 5% of profits to the RCS foundation as well," Vandervert said. "If we just take a little more stress off the people making the wheels turn at RCS and give back at the same time, then it is a huge win."
With Espinoza's involvement in different charities, RCS offered a unique chance for Quiker to come in and talk about leadership and guide future entrepreneurs.
"We partnered with the RCS Foundation and through that relationship began a series of conversations that allowed us to present our services to the Rochester Community Schools," Vandervert said. "This all transpired in August of this year, and we look forward to continuing to build on that relationship for many years to come!"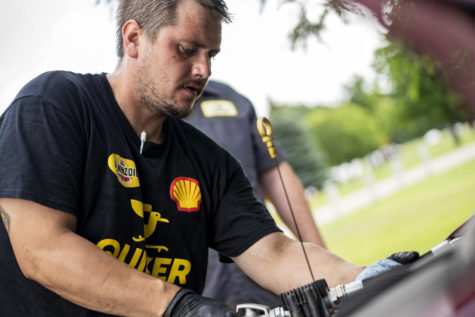 This year, Mrs. Malsbury's small business class started working with Quiker. 
"Our objective is to get their name out and get 70 people to use their service," Senior Maggie Murphy said. "There are people working on making flyers, announcement videos and social media campaigns."
When assistance is needed, Quiker can be contacted through several different ways. A Customer Success Manager will promptly be in contact to arrange a service to your chosen location. The fastest way to contact is through the number 248-712-3600 or the Quiker website www.quikerco.com and the exclusive RCS/Quiker page http://partnership.quikerco.com/rcs. 
"No one enjoys having their time wasted. It is a resource that you can never get back. We pride ourselves on doing this work while you take that time to concentrate on the things that matter most. With us, we save you time and money. We are Quiker than the competition!" Vandervert said.