Detroit Tigers and closer Joe Nathan close to a deal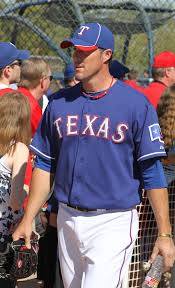 General Manager Dave Dombrowski is committed to spend money, or even save money in order to win a World Series. Grabbing an All-Star closer in Tigers killer, Joe Nathan may give the fans reassurance after one of the most surprising trades this offseason Monday night.
The deal was first reported by FOXSports.com MLB Insider's Ken Rosenthal and Jon Morosi. According to Jon Heyman of CBSSports.com and Bob Nightengale of USA Today Sports, both sides reached an agreement on a two-year contract.
Fox Sports also reported that the deal is worth around $20 million dollars, $4 million less per year than closer Raphael Soriano's contract he signed with the Washington Nationals last offseason, per Detroit Free Press writer John Lowe. Joe Nathan's agent, David Pepe declined to comment on the original report for FoxSports.com.
The signing of Nathan is coming just days after the Tigers were pushing to grab reliever Brian Wilson from free agency. On Monday, Wilson told Detroit that he will pursue other options. According to Yahoo Sports national baseball writer Tim Brown, the Los Angeles Dodgers and Wilson appeared to be getting close on a contract agreement.
According to SB Nation's Chris Cotillo, Nathan was drawing interest from the Los Angeles Angels and the New York Yankees, as well as the Tigers. Cotillo also reported that the 39-year old All-Star voided his team option with the Texas Rangers, in order to seek out a multi-year contract.
Since 2004, Nathan has been perfect in save opportunities against the Detroit Tigers, going 36-36 while playing for the Minnesota Twins (2004-2011) and the Rangers (2012-2013). Having Nathan in the bullpen gives the team a reliable pitcher in the ninth inning.
Nathan will join a bullpen that includes recently signed Phil Coke, Al Alburquerque and Bruce Ronden. The struggles with Detroit's bullpen were highlighted throughout the 2013 season, which included losing Octavio Dotel to injury and the inconsistencies of Joaquin Benoit and Jose Veras.
With pitcher Doug Fister headed to the Washington Nationals in exchange for a handful of prospects with a lot of upside, the Tigers' bullpen will also include a few young pitchers, including southpaws Ian Krol and Robbie Ray. Ray was rated as the No. 5 prospect in the Nationals farm system and Krol finished the 2013 season with a 2-1 record and 3.95 ERA in 32 plate appearances.
In thirteen seasons in the MLB with the  Giants (1999-2000, 2002-2003), Twins (2004-2009, 2011) and Rangers (2012-2013), Nathan has a lifetime 2.67 ERA with  341 total saves. Last season while playing in Arlington, he posted a 1.39 ERA with 41 saves in 67 appearances.