Senior Abbey Bessey wins a competition to have her play produced at MSU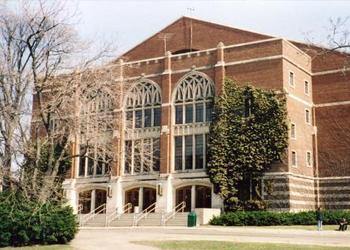 The lighting, the actors, and the costumes. Everything is just as senior Abby Bessey dreamed. Sitting in MSU's theater, watching her own work being performed out, Bessey can't help but feel overjoyed seeing her years of hard work come to life. Bessey and her family feel ecstatic at Bessey's accomplishment of getting her play, "Ethics that Save the World" chosen to be produced.
"It's about a woman who's put on trial because people believe that she's done unethical things to help fix the world," Bessey said. "This concept for the play had already been an idea that I've been playing with for the past three years. I really wanted to bring the darker side of it into the light."
Language arts teacher Julia Satterthwaite introduced Bessey to the idea of getting the play produced.
"I received information about the play writing contest in my mailbox and immediately thought of Abby," Mrs. Satterthwaite said. "I had her in my senior Composition and Language class, and have worked with her previously in LA10. I know she loves to write and is great with creative writing, so I gave her the flyer and she went with it. It wasn't until months later that I heard she completed her play and submitted it for competition."
Bessey intends this play to be centered upon tough decisions.
"It was just a widespread and very complex idea that I've been working with for a long time," Bessy said. "What it touches on are the tough decisions that everyday people must make everyday. Some of these choices greatly impact the world and those around you."
Counselor Jennifer O'Toole-Seyka agrees that Bessey put many of her own ideas into the play.
"I knew she loved to write and had read some of her past pieces before learning about the script she had written and submitted," Mrs. O'Toole-Seyka said. "She is a strong writer and I could hear her personality in her writing so it was fun reading her work."
Bessey was could hardly comprehend that she was chosen to be produced.
"I honestly couldn't believe that it was going to be produced," Bessey said. "I've created such unique worlds and people that I've become so attached to. I've never felt so close to my dream to go into screenwriting. My entire family was over the moon with joy and my friends were so happy, they acted like I had just won an Oscar. I didn't but I did receive a $200 check for my work. Who knows maybe someday I will walk the red carpet."
Mrs. Satterthwaite was equally excited to hear Bessey's acceptance.
"I was so excited for her that she was selected as a finalist!" Mrs. Satterthwaite said. "I haven't read it or seen it, but I'm sure it's great. I wish Abby the best of luck in her career as a writer and am honored to have had a chance to work with her."
As sudden as the news of the production of the play was, the actual process to write it took much longer.
"The process to write it took about 2 months and about two weeks of revising and editing," Bessey said. "This isn't like an in class essay, this is a much more in depth process. In the movie world scripts go through constant changes even during the filming process."
However, Bessey believes that the execution of her play was great and worth the time it took to write it.
"The cast who belonged to the MSU department of theater chose their roles and worked with the director to bring it all to life," Bessey said. "I had no idea what was going to happen but I knew that I had to put a lot of faith in them and they didn't disappoint."