Pistons defeat Rockets despite Drummond's Free Throws, 123-114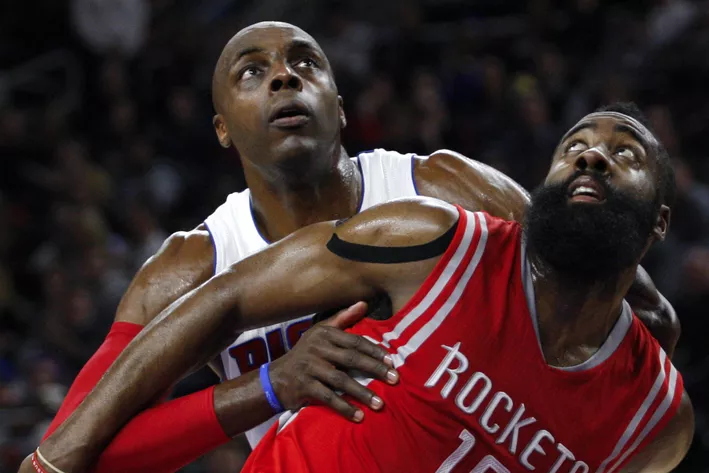 HOUSTON, TX – The Detroit Pistons completed a season sweep of the dissappointing Houston Rockets on Wednesday, winning 123-114 despite Andre Drummond's missed free-throw record.
The Rockets took the hack-a-Drummond tactic to an entire new level, sending in reserve K.J. McDaniels to foul Drummond an astonishing five times in nine seconds. Afterwards, the Rockets took to fouling Drummond twelve straight times in order to force the abysmal free-throw shooter to the line.
The result? Drummond missed a record 23 free throws, passing the earlier mark set by Clippers' center Deandre Jordan, who missed 22 earlier in the season. Against? The Houston Rockets.
Despite the misses, the Pistons received strong showings from each of its starters, receiving 22 points each from Kentavious Caldwell-Pope and Marcus Morris.
Detroit also received a rare, strong showing from its bench, as at least five points were scored by five different reserves. The Pistons will need this play in order to continue its run for the playoffs in a packed Eastern Conference.
James Harden was the most productive player on either team, as the former MVP runner-up recorded a triple double; capped off with 33 points and 17 rebounds.
The lead was relatively static, as only two lead changes occurred throughout the game. Detroit began to control the game late in the third, despite the fouling nonsense that ensued throughout the game.
The Pistons needed this win desperately in order to avoid falling out of the playoff race. Now, if Detroit can begin a small win streak, the Pistons can give themselves a small cushion in the east.
As for the Rockets, struggles continue on a dissappointing season. However, the Rockets are still in playoff contention out in the West.
KEY INJURIES:
Pistons: Jodie Meeks, Spencer Dinwiddie
Rockets: Sam Dekker, Donatas Motiejunas
UP NEXT:
Pistons: Visit New Orleans Thursday
Rockets: Host Milwaukee Friday