The 2023 US Open Championship has come to an end with some astonishing memories made along the way. Novak Djokovic took the win in the Men's Singles championship against Daniil Medvedev in the world-renowned Arthur Ashe Stadium in Flushing, New York on Sept 10 in straight sets (6-3, 7-6, 6-3). Djokovic claimed his 24th Grand Slam title in singles, adding to his already impressive record of having the most titles out of any man in tennis history. With this being his 4th US Open he has won, fans and critics alike, believe Djokovic has no intentions of retiring any time soon and will continue to claim titles as the years go on, eager for him to claim back his spot as first seed.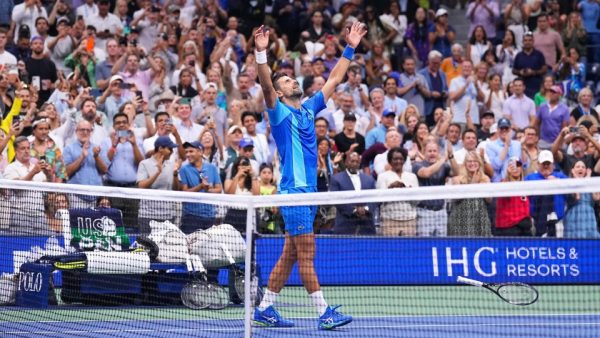 Djokovic shocked many people this year being the oldest person to ever win the US Open at 36 years old. Especially since his opponent, 27-year-old Daniil Medvedev has one of the strongest physical and mental games in the tennis world. At a staggering height of 6 '6, Medvedev has been given the nickname "The Octopus", because it is almost impossible to get a ball by him. His height gives him a major advantage in sprinting around the court and saving some incredible shots during his matches. Djokovic, at 6 '2 still has that height advantage to cover lots of court, but the nine-year age difference between the two was definitely showcased during the match. Not only were the rallies extremely intense, but the second set of the match was one hour and 44 minutes of straight exhilaration. Medvedev was given medical attention for a shoulder injury he had gotten during the set. Moving on into the third set, he took a spill and was seen lying on the ground for a few seconds. 
Later, in an interview, he said " I felt nothing. Actually, when I fell, I was like, Man, this could have been not dangerous but I could have hurt myself. So for maybe 30 seconds, one minute, I was like, does it hurt, does it not hurt?" Although he explains that this shoulder pain was growing the entire match, he does not blame the loss on it. In fact, in an interview after the match, he says "Maybe I win the second set and I don't think about the other problem I had. The pain goes down. When you lose it, the pain goes up. Again. I definitely didn't lose because I had a small pain in my left shoulder." 
Everyone who watched this match can agree that it was an intense one. The longest rally of the match lasted 36 shots! By the end of the match, both players were exhausted, mentally and physically. Despite the two players' age difference, many fans believe that to be a part of the reason Djokovic won. Both players have a strong physical game but when it comes down to it, their mental game is far more important. Djokovic definitely has an advantage due to the fact that he has won a lot more titles than Medvedev, and has played in the intense finals environment much more than Medvedev. This is not to say that Medvedev's mental game isn't right up there with Djokovic, but there were some things he did during the match that left some fans questioning what was going on with him. One of the main things people seemed to notice was his stubbornness when it came to standing so far behind the baseline. In any other match, sure, this would be a good idea. But when playing Djokovic, everybody knows how vicious his volleys can be, and how he has a tendency to serve the ball very wide and then rush to the net to hit a winning shot. This exact scenario happened several times during this match, leaving Medvedev's fans extremely disappointed. Djokovic went on to win 37/44 points at the net. 
"He's a stubborn man," commentator John McEnroe said early in the second set "Medvedev doesn't feel like he needs to change." 
In his case, maybe he should have changed his ways and moved up on the court. Even if it was only by a few feet. Anything would have been better than the 20 feet he had between him and the baseline. This would have allowed him to get to some of those vicious volleys Djokovic kept throwing at him. Not to mention, he would have preserved a lot of energy from not having to sprint up to the net as much.
Now that the cherished tournament has concluded,  it is safe to say that this season was a great one. With all of the record-breaking events that took place, it has been so incredibly fun to watch. Not to mention all of the celebrity appearances we have seen throughout the competition. Tom Brady showed up to support Djokovic and they actually talked face-to-face in the locker room where he wished him good luck in the finals! It was an incredibly sweet moment shared between the two best players in both football and tennis! 
In the interviews that went on after the final match had been finished, Djokovic spoke about how it felt to break the record for having won the most grand slam titles in tennis history. ¨To make history (in) this sport is just something truly remarkable and special, obviously, in every possible way, in every possible meaning of the word. It's hard to describe the words.¨ Said Djokovic in an interview with ESPN. His coach, Goran Ivanisevic, was extremely proud of Djokovic as well, admiring the hard work and dedication he puts into every single match he plays. ¨This is one of the biggest achievements in sports history. We´re not talking about tennis. We are talking generally about sports.¨ Said Ivanisevic, in an interview with ESPN after the match. 
Both Medvedev and Djokovic played an incredible game in the final match, but when it came down to it, Djokovic took the win and claimed back his spot as the number one tennis player in the world, with 24 grand slam titles to his name. Will he come back and win it all again next year? Or will he decide it is time to retire from his tennis career? No one knows for sure, but fans sure do hope that Djokovic will continue to play for years to come and add a few more titles to his already record-breaking career.