World Cup 2022 Recap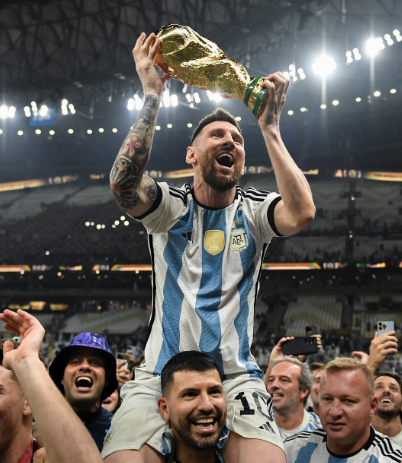 It's midday in Rio, 3 p.m in Qatar, and 4 p.m in France. People all over the world gather around their TVs to witness FIFA's 2022 World Cup final; France v.s Argentina. The World Cup tournament included 32 nations from all over the world placed in eight groups of four teams. Every team is fighting to score in order to make it to the knockout stages of the tournament.
The 2022 World Cup was the first to be hosted in the Middle East and first to take place in November and December, rather than June and July. The first match of the tournament kicked off inside the Al Bayt stadium on November 20, in which Qatar suffered a loss against Ecuador. The next 63 matches following this opening game were filled with surprises and heart stopping moments that led to the final on December 18.
Morocco's win against Portugal sent Manchester United player Cristiano Ronaldo home early in his last World Cup as a player. We cannot forget Brazilian player, Richarlison de Andrade's jaw-dropping bicycle kick goal against Serbia. As well as Mexico's Guillermo Ochoa's saving Poland's Robert Lewandowski's penalty, which saved the Mexican team from a loss had the crowds on the edge of their seats. Argentina's shocking loss against Saudi Arabia in their tournament debut was one to remember as well. Many more of these moments curated an unforgettable World Cup.
The 2022 FIFA World Cup was a special one to many fans that rooted for players like Messi, Ronaldo, Suarez, Modric, Muller, Silva, and Di Maria. As this tournament was their last. However, groundbreaking young talent was also debuted in this tournament giving fans a sliver of hope for the next generation of players, such as Spain's Pablo Gavi (18) Pedri Gonzalez (20) , France's Kylian Mbappe (24), Brazil's Vinicius Jr. (22), and England's Jude Bellingham (19).
Despite great talent from all of the participating countries, there could only be one winner who got to lift the World Cup. After some heartbreaking matches and losses, Argentina and France managed to make it to the World Cup final. This was a highly anticipated match as players faced great expectations. One of which was Argentina's Lionel Messi, who was approaching the end of his career with every trophy under his name except the World Cup. In this match both France and Argentina players such as Mbappe, Messi and Di Maria put on an amazing performance. With the final score being three to three the game went into overtime, then penalties that caused Argentina to win four to two.
The next World Cup is in four years and is set to have 48 teams instead of 32. FIFA's 2026 tournament location has also been set to take place in Canada, Mexico and the United States. Best of luck to all the nations qualifying.