BRIEF: Zuckerberg strives for her best in the pool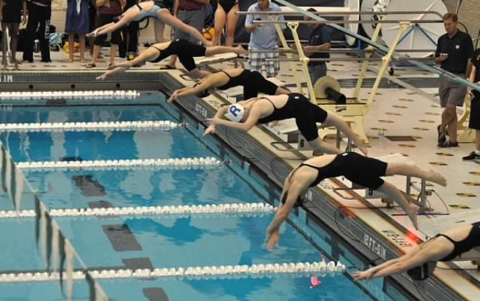 Junior Claire Zuckerberg has been a swimmer on the Varsity swim team since her freshmen year. With her 10-year swimming background, swimming comes naturally to her.
"[My favorite style of swim] is sprinting freestyle. It's an adrenaline rush, and I love how fast paced it is," Zuckerberg said.
Other than her high school team, Zuckerberg is on a summer team that is a part of a swim club she is in, called Heart of the Hills. She's been spending her summers swimming with HOTH since she was six-years-old, and hasn't stopped since.
"My biggest competition is myself. I'm always trying to compete to beat my last best time and just swim harder than I did at my last meet," Zuckerberg said.
Other than trying to beat herself, Zuckerberg says that Stoney and Adams High schools are RHS' toughest competition when it comes to swim. Every high school athlete always wants to beat their rival schools, and this year Zuckerberg (and the RHS swim team) did exactly that, beat Stoney.
"I always say it's the sport I hate with a team that i love. I continue to swim because I love the people around me. I've made such good friendships with everyone I've met through swimming. I might not always want to get up for early morning practice, but I do it for my teammates," Zuckerberg said.