Fall sports end on a high note for golf, tennis and a low note for others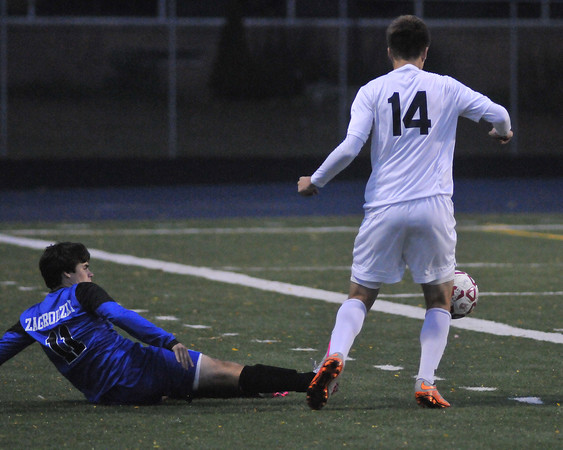 Another fall sports season has come to a close at Rochester High, and it had its share of ups and downs for athletes of all levels.  Freshmen got to experience their first year of high school sports, while seniors wrapped up their athletic careers at Rochester, and many of this year's varsity teams were able to take something positive out of their seasons.
Soccer – The boys soccer team saw a respectable improvement from last year, finishing with seven wins, six defeats, and six ties.  Key victories for this year's team included a 1-0 win over Clarkston and a 7-4 rout of Troy High, both of whom have very storied and successful soccer programs.  The Falcons were eliminated by crosstown rival and defending state runner-up Rochester Adams in the playoffs, but the future is bright for the soccer team, as they feature plenty of talented sophomores who still have two years left to play.
Volleyball – After an early victory over Clio at the start of the season, it appeared as though the Falcons were well on their way to a winning season.  Unfortunately, this year's varsity volleyball team wasn't able to keep that momentum going for the rest of the season.  Although victories were at a premium this year, the team has the potential to make large strides in the next few years, and this potential was on show in first round of the district tournament.  The Falcons fell to a very strong Stoney Creek team in the opening round, but the match was very closely fought, as Rochester came very close to winning two of the three sets, losing the final set by a narrow score of 25-22.
Football – Anyone associated with Rochester High School will be able to tell you that the football team has struggled in recent years – which is what made their victory over Stoney Creek at the end of the season that much better.  The previously winless Falcons topped the Cougars by a score of 30-16, giving Rochester a much needed victory to finish the season.  It was not necessarily a season to be proud of, as a very competitive division and several injuries proved to be too much to overcome.  However, with some extra confidence from their late-season win and plenty of very talented underclassmen, don't be surprised if Rochester's football team starts accumulating some victories in the coming years.  
Golf – Golf is a game of inches, and no one knows that better than this year's varsity golf team.  The Falcons finished second at the Division 1 State Finals at Grand Valley State University, falling to Traverse City West in a fifth-golfer tiebreaker to settle the 685-stroke tie.  While this made for a somewhat disappointing conclusion, it was still a season to remember.  An OAA Red Division Title and a regional title were two major accomplishments that led up to the state runner-up performance.  And perhaps the one thing that gives their opponents the most headaches is the fact that they're not done; every member of this year's varsity team will return next season.  A state championship will surely be in their sights next year as they look to mirror their success from the 2015 season and take care of some unfinished business.
Tennis – Following a 2014 season that included an OAA White Division title and an appearance at the state finals, expectations were high for Rochester's boys' tennis team heading into 2015.  They continued their success in the OAA White Division by winning their third consecutive title.  But when the time for regionals came, this year's team was faced with some of the best competition in the state with teams like Bloomfield Hills and Clarkston, and they couldn't quite perform like they did last year, as they failed to qualify for the state championships.  However, it was by no means a below average season for the Falcons.  While Bloomfield Hills dominated the regional at Clarkston, Rochester put on a solid performance in the doubles competition, with junior Ben Morrow and senior Nathan Abreo finishing second to a Bloomfield Hills duo.  Although they were not able to reach the heights that they did last season, the tennis team still had plenty of success and maintained their reputation as a very competitive program.