Many RHS staff honored by special education students with Sparkle Awards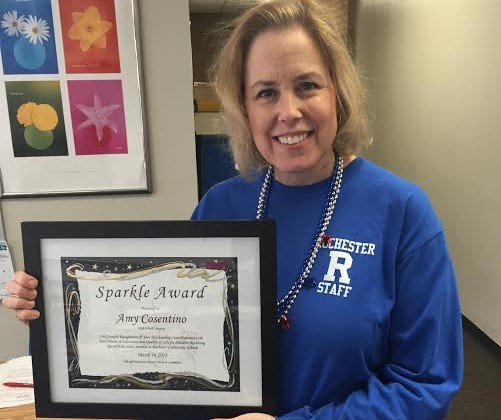 Sparkle Awards are given to staff members who shine through the eyes of their special education students; these students have the opportunity to nominate a staff member who has helped them reach their potential academically and socially.
On Wed., March 16, 24 out of the 67 high school Sparkle Awards were awarded to RHS staff members at the Stoney Creek High School ceremony. Special education teacher Mrs. Amy Cosentino was our overall high school winner, nominated by senior Jake McDonald.
"He was really thankful he was able to go to the homecoming dance, football and basketball games and just thrilled to be a part of this safe, awesome Rochester High community," Mrs. Cosentino said of her nomination by McDonald.
Another Sparkle Award recipient was science teacher Mr. Adam Clyne, who recognized by junior Cole Strauss.
"He helped me pass my hardest class in high school," Strauss said. "Without him teaching this class, I don't think I would graduate for sure. He's just really a decent guy for real."
Athletic director Luke Beach was nominated for an award by junior Blaze Monjarez. Monjarez loves to dance in front of crowds and Mr. Beach gave him the opportunity to do so.
"Blaze said that he appreciated all the support he gets from me," Mr. Beach said. "I worked with him to be the mascot for the Crosstown Showdown and have him dance in front of a big crowd at our school."
Mrs. Cosentino was honored to be the top recipient at the high school level.
"I was overwhelmed and totally shocked beyond belief," Mrs. Cosentino said. "I felt so honored to be chosen among so many teachers. I was amazed."
Staff members can also nominate students that have made an impact on their lives. Seventh grader at Van Hoosen Middle School, Aaron Capaldi, was nominated by an elementary Autism Spectrum Disorder teacher.
"She was a great para of mine; she helped me with math and world studies," Capaldi said. "She helps me control my behaviors by being calm, kind and reassuring."
Here is the complete list of RHS recipients:
Marius Achim
Christina Ambrose
John Ashley
Luke Beach
Patrice Breuer
Manon Clavette
Adam Clyne
Amy Cosentino
Nancy Cox
Pasquale Cusumano
Kathy Davis
Michael Dziadzio
Steve Fox
Julie Goldsby
Chris Guyor
Jenica Hale
Jeff Haney
Amy Honeycutt-Cook
Renee Kavalar
Kris Kehren
Angela Lowry
Rachel Rose
Erin Slomka
Laura Zotos