Wrestling season recap
Your guide to the RHS Wrestling Team: what you may or may not know
As the RHS wrestling team finishes up their season this month, the Talon is providing a close-up look at what wrestling is all about. Head coach and Economics teacher Mr. Erik Vernon and senior wrestler Emilio Donato give us the details.
Students are paired with another wrestler in matches by their weight classes. Weight classes range from 103 pounds all the way up to 285 pounds. There are 14 weight classes total. Any student interested can get into wrestling no matter what size they are.
Wrestling meets consist of six minute matches: three individual periods which are two minutes each. 
"You're basically just trying to take the other person down, or in essence, just trying to pin them; put them on their back," says Coach Vernon. To pin them down is defined when both shoulders touch the mat. In order to do that, "there's a bunch of different moves that wrestlers learn in order to succeed at pinning their opponent," Vernon adds.
Scoring in wrestling is made up of points earned by each wrestler. Coach Vernon explains that, "If you beat somebody by points, you get three points for the team. if you pin somebody, you get six points for the team. There's a little more detail to earning points, but that's a basic explanation."
There are a total of four coaches who work with the team, and this year's team consists of about 30 wrestlers.
The team competes in both local and regional matches. Vernon adds that," If you finish in the top four at the individual district meet, you move on to the regionals. If you finish top 4 at regionals, you move on to the state tournament held at Ford field where teams compete to become All-State."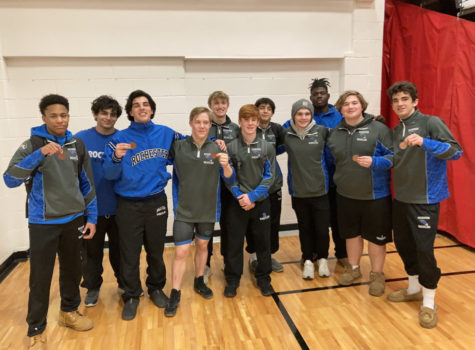 Donato explains how tournaments work. "In a team tournament, there's 14 wrestlers on each team, one for each weight class, and they each go out individually. Then based on the wins and the points they get, that determines the win for the team."
"In the season," Vernon adds, "the team is allowed seven dual meets, which equals fourteen meets. A team is also allowed seven tournaments. The tournaments can either be individual tournaments, where wrestlers compete within their weight class, or they can be team tournaments where we wrestle dual meets."
This year, the team is made up of many newer and younger wrestlers. "We have a lot of freshman and sophomores in the lineup, and so we've struggled in some matches, because we wrestle teams that have older kids. Teams with wrestlers that have been wrestling longer have that advantage, but we've wrestled pretty tough this year and have been wrestling really well overall."
Not many students realize that wrestling at Rochester High School is a coed sport, meaning both boys and girls can join. Currently, the team has thirty males.. Right now, there are no girls, but the opportunity is there. 
"I think we have a really good group of kids who work hard. They treat each other well, and are a very close knit team. They enjoy hanging out together and being part of the team."
Regarding what qualities or skills should make a good wrestler, Coach Vernon believes that it primarily requires discipline. "Being self-disciplined, hardworking, and tough. Those are the things that usually make the best wrestlers."
Being in good physical shape plays a big role as well. Coach Vernon believes that being in better shape is more important than one's strength or build.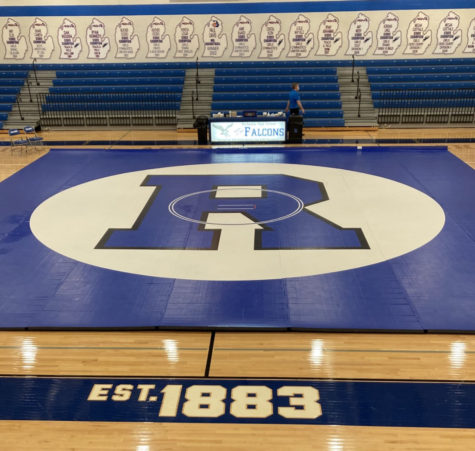 "We've had some kids who were good wrestlers, but who were not very strong. However, they knew their moves, which made them very good technically. We've also had some kids who were just in really good shape and performed well because of that quality."
Senior Emilio Donat0 wrestles in the 160 lb. weight class and has been on the team since his freshman year. This year, his record is approximately 15 wins and 9 losses. Donat0 explains how wins and losses affect the overall team score.
"It depends on the event we go to. If it's an individual tournament, my matches count toward my own score. If it's a team tournament though and I win my match, the team gets points. The winning team is the one that received the most points based on their wins."
Wrestling is a very physical sport and requires continuous conditioning and practice. 
"I practice every day after school, assuming there's no meets. Practice usually lasts about two and a half hours. We usually just stretch and then maybe we'll do a little bit of conditioning, like running or pushups. Then we start practice wrestling each other," says Donato.
Wrestlers may or may not need to follow a particular diet that would depend on whether they need to lose or gain weight. Donato himself said, "Me personally, I didn't have to cut  a lot of weight this year, so I didn't really diet this year, but last year I did. It was a low carb, low salt diet where I was just trying to avoid retaining water, and also just not eating a lot to stay on weight."
" I am pretty strong for my weight class, and also pretty flexible which helps,' says Donato. "Also, I've had a lot of experience with good wrestlers, so that helps too."
For any student, boy or girl, interested in wrestling, consider joining next winter and use this year to get in great physical shape.