Humans of Rochester: Skyler Janiszewski
Senior Skyler Janiszewski's positive mindset impacts fellow students
Among the busy hallways once the dismissal bell has rung, the personality of Skyler Janiszewski shines through among the crowd. Many students would recognize Skyler in the halls or at after-school events, but how many really know Skyler?  As an energetic type, he carries positivity and joy with him. 
"I want to be, for as many people as I can, a universally positive part of their story," said Janiszewski. 
Janiszewski, a senior at Rochester high school, enjoys performing with theatre and playing instruments such as saxophone, banjo, and others. When he was younger, he wasn't outgoing at all and was more on the quiet side. Near the end of 8th grade however, he realized he wanted to be more sociable. He wanted to meet and talk to new people, and listen to their stories. He started to view everyone as a friend, regardless of whether they were a close friend or just a friend of a friend. Whenever he met new people, he realized that he enjoyed it and hearing their stories about them and their experiences. He thinks everyone needs that kind of person in their life: the kind of person to talk to and who will just listen. 
"You never know what someone is going through, and the ability to get to know someone, make them smile, and possibly take away any worries they may have is an amazing thing."
Janiszewski was once in that spot where he wished he had that someone, but he no longer feels that way and is grateful for those that joined his life, so he wants to be that same kind of friend for other people. 
"He always made an impression whenever he walked into the room," said Megan Splan, a friend of Skyler's, "whether that was being late because of marching band rehearsals or being loud at 7:30 in the morning."
Splan's first impression of Janiszewski was "the theatre kid". When she first met Janiszewski two years ago, he played Lord Farqaud in Rochester's Shrek: The Musical. Once when she and a group of other performers were practicing choreography for a pep assembly, Janiszewski was late to the practice. As she helped him learn the dance steps, she noticed that he was super kind and caring. He even convinced her to audition for a role in this past fall's performance of  Elf: The Musical. She originally only wanted to be a part of the backstage crew, but he saw her potential and encouraged her to try out for an acting part. Splan ended up landing the lead female role. She's very appreciative that he pushed her to recognize her ability and happy that he is her friend. She would describe him as "a nice, genuine, open guy; the type to be there for you during a tough time."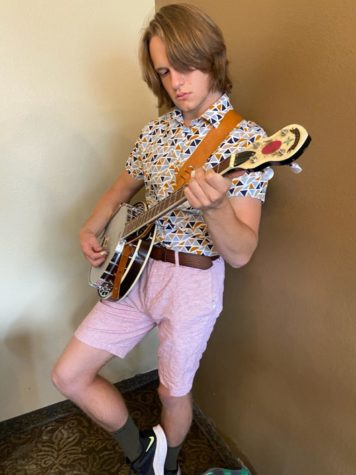 In 8th grade, Janiszewski found himself happy being more expressive and outgoing, so he joined theatre. He started putting on different characters and acting out different personalities and enjoyed it. Soon after, he started making his own characters. He ties this into life itself. He views life as like a rainbow, and that you shouldnt limit yourself to one color, one thing. 
¨It's all colorful at the end of the day, it's all these different colors," said Janizewski. "It's all these different parts of life. And it's really cool to see the whole rainbow.¨
He also views life as something like water.
"We wait for calm waves or violent motions, but whether the days are good or bad, we should enjoy the water. Even on the bad days, we should appreciate when it gets better and the experience we get from it." 
Next month, Janiszewski is participating in the annual Mr. Rochester contest, where he applies this same philosophy. Whether he wins or not, he's going to enjoy the experience and fun he'll have. He's in it to share the moments with the other contestants, as well as his friends, family, and anyone else that supports him, and he gladly supports others the way they support him.
He's grateful for the many different experiences he received throughout high school, and it has made his life more enjoyable. 
"I live by experiences, not by titles," said Janiszewski. "It makes life more enjoyable."
Janiszewski saw a lot throughout his high school years, many different kinds of emotions and moments, and has this advice to give: "Personal change and development is important. Life is like a car: you realize you need to go somewhere, but until you turn it on, you won't go anywhere," said Janiszewski.
 Janiszewski believes that what you're searching for, you'll eventually find. 
"We come across so many things in our lives and sometimes it's good, sometimes it's bad and that's okay. It just happens and sometimes you can't help it and that's okay. If you are aware of what it is you're actually searching for, and if you are able to direct yourself, you'll be able to find it. You will have a lot more positive experience in life when you do."
Janiszewski wanted more people in his life and was able to get it, not just by realizing that's what he wanted, but by going out and working at meeting new people. He says he "got it through self-love, and that's something no one else can give you."
Skyler Janiszewski has learned a lot throughout his life, and although he acknowledges that life has its ups and downs, he is able to find the positive through it all and enjoy the experience.