Downtown Rochester bakery review
Which Rochester bakery sells the best fall treats?
Downtown Rochester is home to many fabulous bakeries, coffee shops and restaurants. A group of Talon editors teamed up to visit four downtown bakeries and coffee shops to review their fall themed menus. Each restaurant was reviewed under three categories: the ambience of the restaurant, the speed and friendliness of the service and the variety of fall food/drink options. On the hunt to find the best fall bakery, one restaurant was a clear winner. 
Bakehouse 46 – 5/5 stars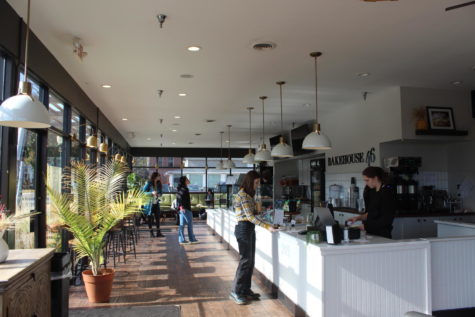 Immediately upon entering the restaurant, we were greeted by friendly workers. The staff was helpful with answering our questions. Bakehouse 46, located on the corner of Main Street and W 2nd Street, is a combination of the old Cupcake Station and Blake's Orchard. This combination provides for the perfect array of fall goodies. Bakehouse 46 provides everything from cider and donuts, to dozens of flavors of cupcakes, ice cream, breakfast and lunch assortments and drink options. The restaurant was perfectly decorated to create a minimalist yet comforting atmosphere. There are couches and rugs to create a homely environment, and window seating to bask in the sun. The exterior walls are completely made of glass, allowing the sunshine in to feel warm even on the coldest days. The restaurant was extremely clean and relatively empty on a Saturday afternoon. 
Bottom line: For anyone looking to relax in a quiet, cozy atmosphere, Bakehouse 46 is the place to be! 
Dessert Oasis – 4.5/5 stars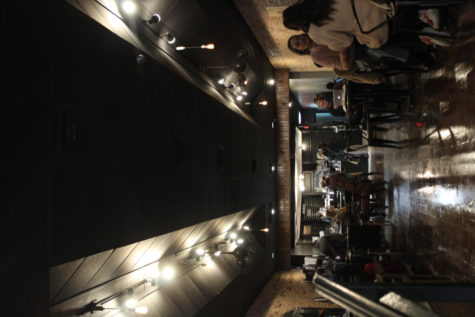 If you haven't been to Dessert Oasis recently, it's about time you pay a visit. The restaurant and kitchen were completely renovated to create a new interior. Dessert Oasis is mostly known for their coffee; however they have a wide assortment of cheesecakes, pastries and cookies. Dessert Oasis is beloved by many locals and almost always has a steady flow of customers. Nearly all tables were filled on our Saturday afternoon, but the speed of the register was quick, and the line moved fast. The staff was helpful, friendly and very knowledgeable of their products. However, after the order was placed, it took a lengthy amount of time to receive our order. Once the food and drink arrived, it was worth the wait. The pumpkin spice cheesecake had the perfect amount of spice to create a wonderful fall flavor without overpowering the rest of the dessert. The restaurant, though full, had an inviting atmosphere. Something that contributed to this was the soft background music playing. In fact, the restaurant frequently has live music throughout the week. 
Bottom line: Dessert Oasis is the perfect destination for coffee lovers.
Give Thanks Bakery – 4/5 stars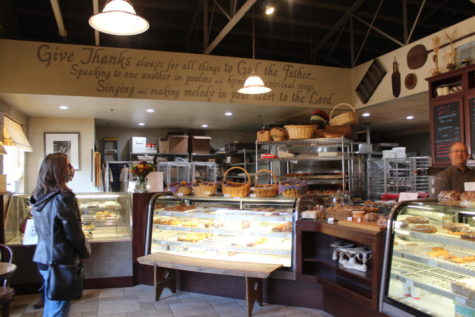 Give Thanks Bakery is a traditional bakery located on West Main Street Alley. The bakery had an abundance of bread and pastry options. The display of goods was beautiful and the bakery had a pleasant aroma. The staff couldn't have been friendlier. We were greeted and helped by one of the owners, and he made the service an enjoyable experience. After purchasing our goods, he even threw in extra chocolates for free, which shows the staff goes above and beyond for their customers. The bakery had only one table inside, so expect to take your items to go.
Bottom Line: If you're searching for traditional bakery items, especially freshly baked bread, Give Thanks Bakery is the place for you!
Bean and Leaf – 3.5/5 stars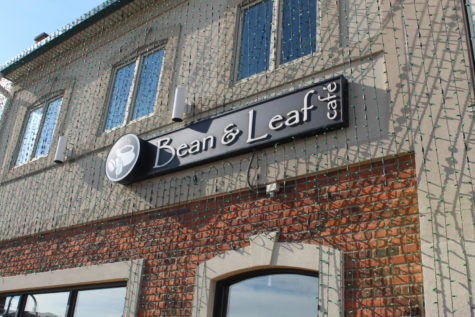 Bean and Leaf Cafe, located on the corner of Main Street and E University Drive, is home to many coffee and tea lovers. There is a huge menu of drink options, from cherry lemonade, to dozens of classic coffee and tea options to seasonal drinks. Bean and Leaf Cafe offers food and pastries as well. Gluten free and vegan baked goods are available, making this cafe appeal to a larger group of customers. The service was quick, and the restaurant was cozy. There are lots of tables and chairs to sit, but they're pushed close together so the seating is a bit tight. The vegan pumpkin bread was one of the fall themed pastries offered at Bean and Leaf. Although vegan options do tend to have a different consistency, this bread was a bit mushy and could have used a stronger pumpkin flavor. 
Bottom line: But again, Bean and Leaf is known for their coffee flavors over their food assortments.