RHS stays green beyond Earth Day
How the RHS Green Club prepares for Earth Day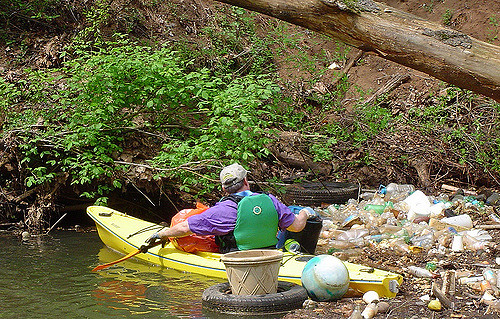 Science teacher and Green Club adviser, Mr. Brandon Shurter, spends his time throughout the year trying to stay as a green as possible, volunteering for recycling events and donating money to many green organizations.
Outside of all of their yearly volunteer opportunities and jobs to help keep Rochester one of the best recycling schools in Michigan, Green Club works hard to make Earth Day, which fell on April 22, one of the most important parts of their year.
"We encourage people to go to the Earth Day Fest in Downtown Rochester which has plenty to do regarding living a more environmentally friendly lifestyle," Mr. Shurter said. "We will also advertise a green out for Earth Day."
Rochester High School maintains the status of one of the greenest schools in the state of Michigan. Every school year, students and staff work to keep RHS under a strict recycling program, while also promoting staying green outside of school.
"RHS is one of the best recycling schools around," Mr. Shurter said. "We have planted trees on the property and cleaned up trash. We also donate to the Clinton Watershed Council and World Wildlife Fund."
When it comes to keeping Rochester a green school, Mr. Shurter works with the school to oversee projects that could benefit recycling at the school.
"As far as helping RHS stay green, I developed and oversee the recycling program," Mr. Shurter said. "[I also] invest in new bins for recycling, organize/volunteer at electronics recycling events, and write grants to fundraise for our club."
Outside of school clubs and activities, Mr. Shurter encourages students to recycle and he also spends his own time invested in keeping the Earth clean.
"I make decisions in my own personal life that help this planet stay healthy," Mr. Shurter said. "This includes what food I buy/eat, which organizations I donate to, and which products I buy/use."
The members of Green Club stay active during the year and are involved in many events that put effort towards cleaning up the Earth.
"Green Club members main job is to recycle for the building and without them it wouldn't be done," Mr. Shurter said. "We do things throughout the year such as promoting 'Waste Free Lunches'. Members also have the chance to volunteer at Electronics Recycling Events, Founder's Day, and clean up events."
Green Club members work to keep the school running smoothly with recycling programs and help to keep RHS a green school.
"It's so important to keep the air clean and the land green on Earth," junior Carly Rodman said. "We only have one planet to live on, so we have to take care of it, not only for ourselves but for future generations as well."
Over the past decade, the trash around the world has increased in quantity. One of the largest parts of the world, the oceans, have become largely affected by this overwhelming amount of trash.
"Trash in the oceans is a factor that threatens the Earth's greenness that concerns me," Rodman said. "Our trash does not belong in the oceans because it is harmful to the waters and the animals living in them."
Green Club members work not just individually, but together, to make sure their programs run smoothly.
"We recycle every Wednesday," junior Kendall Evans said. "We all collectively help each other out and make sure every section in the school has been emptied."
Both Evans and Rodman are in Green Club together and spend some of their time helping keep RHS a green school.
"[We] do Green Club together," Rodman said. "We both decided to join because we wanted to help the Earth, and Green Club is a great way to do that."
Recycling clubs, programs, and events are commonly found in most high schools, but at RHS, the Green Club members go above and beyond to help out the Earth.
"Together as a club, we do good for the Earth by recycling," Rodman said. "Our recycling for Rochester High School helps keep our Earth clean. Even though RHS is one school in a world full of schools, every person that contributes to keeping the Earth clean is making a difference."