Senior Column: The sun will rise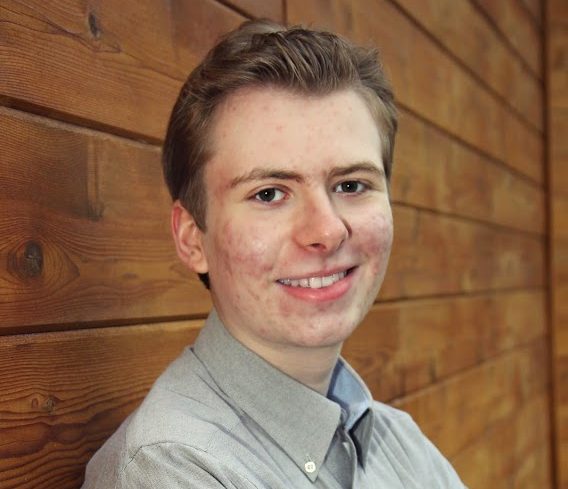 It seems impossible for some people, it may feel like life is nothing more than a bottomless pit that just takes and gives nothing in return. I know I was in a dark place for a long time, and the shadow of night embraced me for what felt like an eternity. I felt pain, sadness, loneliness, and desire for something that I thought I could never achieve: true purpose. It took years, but the sun did eventually rise in my life. This is the story of how morning finally came.
I had a decently happy childhood. I had birthday parties and play-dates. I had friends and I was happy. Elementary school was a great time. All of that changed when I got to middle school. It seemed that everyone around me had just changed so suddenly, and kids I had known for years were so different than the innocent friends I once knew. They all grew up, and my childlike mindset remained, and I didn't understand why everyone I once knew was growing apart from me.
As all my friends grew up, I felt so alone. No one hung out with me after school, no more play dates, no more birthday parties. I still saw family friends and talked to a few people in class, but I felt so lonely. I was kidding myself then because I believed that I didn't need anybody, that I was content being alone. I was wrong. I have never known loneliness like this before. I was happy sometimes, but I knew I was missing out on so much fun.
The 6th grade ended, 7th grade, 8th, and 9th grade all ended and not much changed for me. I did have one very close friend who I sometimes met outside of school. This was a nice change for me, as it was very rare for me to hang out with friends that wasn't a parent arranged meeting. I feel like this where I started to turn things around. I felt a little more confidence my sophomore year. I started doing clubs and activities I thought I would never have the courage to do. I can remember around spring break of last year, I went to a concert for one of my friend's band.
I think the thing that finally got me out of my shell was when I joined theatre near the end of my sophomore year. I started out on lights crew and I was constantly introduced to the amazing and somewhat chaotic word of high school theatre. I had finally found what I had been longing for the past four years: purpose. I stuck with theatre through my junior and senior year and went from a techie to staring in my junior year spring play (I can rant about this for pages, so I'll just sum up the effect it had on me). That was the point where I knew there was nothing holding me back. No more insecurities, no more fear, I had finally grown up. Theatre has changed my life forever, and while I'm not sure if I'm going to major in it in college, I am not willing to just let it go after I graduate. Theatre also introduced me to some of the best friends I ever had.
I want to thank the following people for being such a huge impact on me:
Mom and Dad: You two have always supported me through the many highs and lows of my life. I know I'll always have your love and support, even though I know I'm not the easiest son. Love you guys.

Connor: Sorry I always tease you, yell at you, ignore you, throw things at you, and punch you. You are an awesome brother and even though I won't admit this, I love you and I treasure our many childhood adventures together.

Annie/ Lilly: I have known you two almost my entire life and I know that we always have each other's backs. Lilly, we're both taking a huge step forward and going into college. It's been quite an adventure with SMT! Annie, you are sick- nasty.

Kaitie Derkaz: You probably remember me as that one annoying sophomore that always tried to talk to you (thank you for listening by the way). Even though I was already in RATS, you convinced me to join the play. I doubt you'll read this, but thank you!

Kaelan: Dude, you were my first theatre friend. You probably thought I was annoying too, but I always felt comfortable talking to you.

Alex R: I've known you since the 6th grade, and I have never met a bigger jerk in my entire life. I'm going to miss you man.

Theo: I don't think I've ever told you what our friendship means to me. I felt like you were the one person who really stuck by me no matter how weird I was. You are kind, caring, and hilarious to joke around with. I'm sorry we haven't hung out that much lately, I've been really busy, but we have a whole summer for hanging out. By the way, SHREK IS LOVE.

Pemba: Dude, you are so weird yet so awesome at the same time. You are an awesome friend and I know we'll still hang out during college.

Aidan: I've known you for so long, but it feels like we just recently got so close. You always know how to make me laugh and I'll always be available if you need to vent. Also, you owe me for all those rides.

Concert Choir Men: I was nervous joining choir. It was my first year and I honestly didn't know anyone in the class. You guys took me in and we had an amazing year. I will always treasure the memories I made with all of you and I look forward to seeing you in choir next year. George, I wish you were still doing choir- you're the only one of us who's not tone deaf.

Anna: What else is there to say, you are my sun, my moon, and my every wish come true. We met last year, but I know better than I know anyone else. You are the love of my life and you have made me the happiest man on earth. Also, stop insulting yourself, you are beautiful and don't let anyone else tell you otherwise.

Jason: You are such a weirdo, yet you have the biggest heart of all. Dude, theatre and microbio (the FLIIIIIIIIIES!) has been so much fun. I'm available any time you want to hang out. Your hotdog suit is awesome by the way.

Mr. Harding: You made my 9th grade year amazing! I always loved listening to your stories and talking to you. You are by far one of  my favorite teachers and it broke my heart when you left Rochester.

Mr. Carmichael: You were the teacher that made me fall in love with science, specifically astronomy. You are a hilarious teacher- please keep spraying kids with water when they fall asleep.

Mrs. Bettes: You are the most generous teacher I have ever had and I can't even express in words how grateful I am for everything you've done for me. Thank you for showing so much support for my journey through theatre. P.S.- You got me obsessed with Les Mis.

Mrs. Schrems: I want to thank you for helping me with my college essay, letters of recommendation, assignments, etc. I wrote about some personal things that barely anyone knows about and I'm so grateful you are a teacher I can trust and feel comfortable coming to you about anything.

Mr. Gollon: I joined RATS my freshman year, but I never participated in any one the plays or musicals because I was so scared. Sophomore year, I joined crew for "Moon Over Buffalo" (I try not to talk about that too much) and I was hooked. I instantly fell in love with this new and strange world. My first experience on cast was SMT that year, and I came back my junior year to join the cast for "Chicago" (honestly, I'm surprised you even let me be in the ensemble, every part of my audition was just pathetic to watch). Asd the year went on, I fell more and more in love with theatre, and to my surprise, you gave me the chance of a lifetime in "The 39 Steps" (Theatre 1 class really helped). I want to thank you for your part in taking that shy little freshman, and turning him into the man I am today.