Michigan State #1 in basketball, first time since '01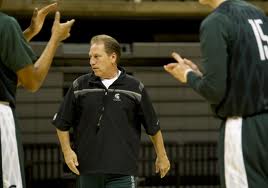 With the win over the University of Kentucky a week ago, the Michigan State Spartans are N0. 1 ranked in the AP top 25. The Spartans have a very smart and experienced team. Almost all of their players are seniors or juniors which gives them the experience edge on almost every single team out there, including the Wildcats.
The Spartans are lead by Keith Appling, Big Ten freshman of the year Gary Harris, Adreian Payne, Brandon Dawson, and Travis Trice. Aside from sophomore Gary Harris, all of the other Spartan starters are juniors and seniors. This helps them get bigger and helps them get those rebounds.
So far the Spartans have beaten McNesse State, #4 Kentucky, Columbia, and Portland. The Spartans start off strong and how long they can stay undefeated is a question on everyone's mind.
Next on the Spartans schedule, they have two games left in November. They have Virginia Tech on a neutral site November 22nd, and Mount Saint Mary's on November 29th as they grow ever closer to starting Big Ten play.