Freshman Hunter Schattler hopes to contribute on the Varsity basketball team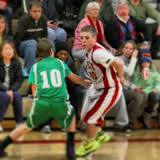 By Hussein Murray
In a summer of decision between Rochester Adams and Rochester High School for Hunter Schattler, the top 25 prospect in the freshman class in the state of Michigan decided to take his talents to the Rochester Falcons.
West Middle School 8th grade basketball coach Brian Trudeau explains why the acquisition of Schattler will be a beneficial one.
"Hunter has a great ability to score in many different ways," Mr. Trudeau said. "It was apparent to me watching Hunter play on the 7th grade team that he was a talented scorer, great ball handler, and hard worker."
Schattler holds impressive statistics through the local AAU team, the Rochester Gators. This past season he averaged 27 points and 5 rebounds per game. He was also the tournament MVP amongst 8th grade boys in the state of Michigan, and was named to the 8th grade all tournament team. On the top of this résumé Schattler has been offered a scholarship to Division 3 Alma University.
Schattler's excited to play at the high school level.
"My ultimate goal for Rochester is to win a state championship during my four years," Schattler said.
While statistics are an important part of Schattler's success, Mr. Trudeau says his leadership on the Warriors squad has earned him the respect of his teammates on and off the court.
"Hunter was a great team player," Mr. Trudeau said. "Sometimes that was scoring and sometimes it was distributing the ball. He always tried to help motivate his teammates. During timeouts and in the locker room, Hunter seemed calm and confident."
Schattler trains three hours a day, working on conditioning and skill work. He believes this work ethic will make him a successful basketball player.
"I don't think your ability is based on your age, but I think it's based on training and how hard you work," Schattler said.
One issue that Schattler will have to contend with is the height differential he will have playing against juniors and seniors. Schattler, being 5"7', might not be developed for varsity play when it comes to athleticism.
"I believe Hunter's skills are at the varsity level, for his basketball IQ and abilities are outstanding," freshman Brent Burtraw and AAU/Warriors teammate said. "His size, strength and speed aren't there yet."
Mr. Trudeau also mentioned that Schattler will experience a transition period.
"I do think there will be an adjustment period as he learns how to play against players that may be taller, faster, and more physical than him," Mr. Trudeau said.
Schattler knows that he'll have to work hard to earn a spot on the varsity squad.
"I am sure there will be a learning curve and physically, being a freshman my body has not totally developed as well as a senior would be," Schattler said.
Schattler's confidence has increased since the offer from Alma College came.
"It always helps your confidence when someone expresses an interest in you," Schattler said.
Rochester varsity basketball is looking at an acquisition that may be an important one. A player with his skill set and leadership potential could give the team a leg up for the next four years.
"I feel I can bring leadership and a work ethic that will drive the team to perform at their best," Schattler said.