Rochester Chomp Review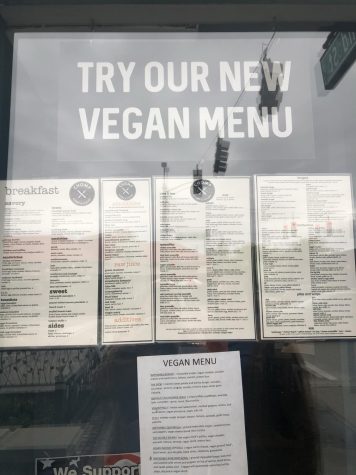 Chomp opened its doors 9 years ago on May 1, 2010. It is a family owned restaurant, started by Tim Brinker and his daughter, Ashley Koval. Located on 200 S. Main St, Rochester, MI 48307, it is very close to home for many RHS students. Their goal is to provide all dietary needs by offering vegan, vegetarian, carnivore and gluten free options. All of Chomp's food is freshly handcrafted and made to order with local, fresh ingredients. Chomp is a fun, family friendly, community oriented place to gather where there is something to eat for everyone.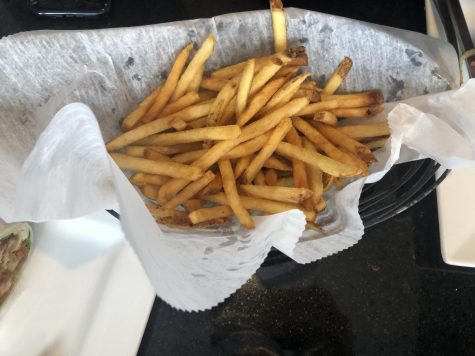 The building is on the corner of Main and Second St., painted white with a green outline. Chomp is shaped almost as a small house, which makes it look warm and  inviting. It is small inside, but it has many black wooden tables with matching chairs, so there is plenty of room to sit down. Overall, it is a very laid-back and comfortable restaurant.
Chomp has a large menu with many savory and sweet options. This includes sandwiches, burgers, smoothies and a special vegan menu. They also have a great number of sides to go right along with any meal.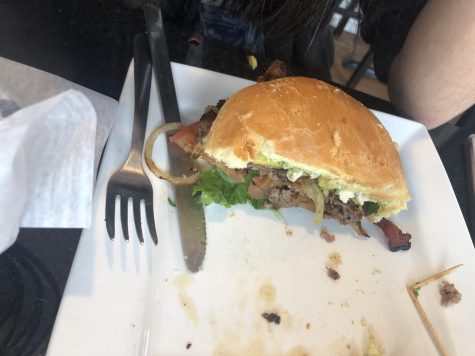 The restaurant serves an array of breakfast, lunch, and dinner, which makes it very convenient any time of the day. Chomp's service is very fast, as the consumers get their food within 10 minutes of ordering; his is not just for small meals, but also for bigger ones, such as burgers. Another amazing part about Chomp is how kind and positive their staff is. They always have a smile on their face, and it gives the restaurant a sense of happiness.
Chomp's food is very consistent. It's always well-presented, and the taste is incredible. Whether it's a burger or a wrap, the consumer is left very satisfied. The Avocado Burger, pictured to the right, is very juicy and flavorful. It's also easier to eat than most burgers anywhere else. The Barbecue Chicken Wrap is sweet and delicious. The only unsatisfactory part about Chomp is their somewhat high prices. For one burger, the price, on average, is about $12. For a low-key restaurant like this, at least fries would be expected with that price.
Overall, the Chomp dining experience is one that many would definitely try again.
Rating: 5/5