Spanish classes celebrate Day of the Dead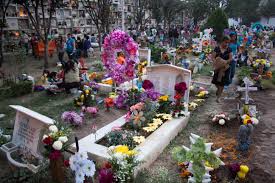 Earlier this month, all of the Spanish classes at RHS merged together to celebrate the Mexican holiday, Día de los Muertos (Day of the Dead). This special day is reserved for honoring the loved ones who have passed away in a family and commemorating their lives rather than grieving over their deaths.
Spanish teacher Ms. East elaborates on the significance of this holiday in Hispanic culture.
"During [Day of the Dead] in Mexico, they celebrate the spirits returning to the homes of the people who have lost loved ones," Ms. East said. "This is the day where everybody honors all of the people who have passed away. It's a happy celebration and it's somewhat mocking of death because they don't fear it, they look at it as just another step in life."
In Mexico, a tradition many families carry out  is creating altars to remember those who have passed away. These shrines are generally comprised of items that bear some representation of a loved one and serve as tokens of remembrance and appreciation.
This year at RHS, the Spanish teachers gave their students the opportunity to contribute to the celebration by having them prepare a Mexican dish or adding relics to their class altars.
"Some [of the students] are making authentic 'pan de muertos' (dead bread), which is an essential thing on the altar in these families' homes," Ms. East said. "They've also been asked to bring in their own mementos to contribute to the altar to honor people or spirits of people who have passed."
Because Day of the Dead coincides closely with the American holiday, Halloween, some people think these celebrations are intertwined and bear some semblance to one another. However, Ms. East believes this thinking is misguided.
"There's not really much here to Halloween. There's nothing about Halloween where we honor people who we've lost," Ms. East said. "I like Day of the Dead because it really is a time each year where people take time out to remember and think of their loved ones and put some of their favorite foods and things on the altar to welcome their spirits back home.
"You don't necessarily have to believe [this practice], it's just nice that there's a designated day to truly honor those who have passed away, and Halloween doesn't do that."
Ms. East celebrates this special occasion with her students every year and relishes the traditions and festivities that accompany the holiday.
"I love the calaveras [festive skulls]," she said. "I also like all of the playful colors of death looking happy rather than so morbid and sad."