Junior class council runs anti-bullying campaign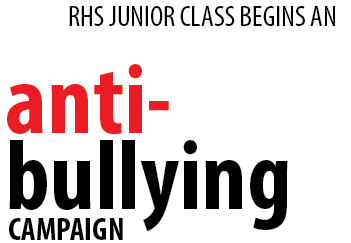 The junior class council has decided to begin a campaign against bullying. The campaign is headed by junior class council leader Mr. Chad Zwolinski, and the rest of the representatives. The goal of the campaign is to raise awareness to the effects bullying has on students, and also to create a closer bond between the students in the junior class.
"We want to create a spirited community and connect our class," Mr. Zwolinski said. "It's something people can buy into, so we can bond as the class of 2015."
There are three major components to this campaign: spirit, fundraising and volunteering.
"We want to hold a good amount of fundraisers for the junior class campaign," Mr. Zwolinski said. "We would like to do a Buffalo Wild Wings, Krispy Kreme and Salvation Army fundraiser."
Initially, the campaign idea wasn't started by the junior class council, but in Mr. Zwolinski's sociology class.
"My sociology class was making anti-bullying posters," Mr. Zwolinski said. "I thought it would be a great idea to extend it into our junior class, so we can come together as a class for a good cause."
The people behind the campaign have high hopes that the movement will make a difference in someone's life by extending a hand to a stranger with a few words of kindness.
"Everyone has their own story and their own problems they go through every day," Mr. Zwolinski said. "I feel like if we make a difference in just one person's life, it will be a success."