Why you DON'T need a date for prom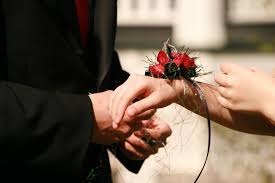 As the school year is fizzling to a close for seniors, so is the time to find that perfect bejeweled dress with the sweetheart neckline, a matching pair of blister-inducing high heel shoes, and of course, a stunning date by your side to show off as you strut into the banquet hall. Those are typically the prerequisites people believe they need to fulfill in order to have that stereotypical, magical night at prom. However, I think the idea of having a date is dispensable, and you can still have the time of your life without being accompanied by someone else.
First off, if you already have a date, congratulations, I sincerely wish you a fabulous night full of good decision-making and legal activity. But for those of us who have not yet gotten a date or do not plan to go with one, don't feel obligated by anyone who is pressuring you to go with someone.
If there's one thing you should avoid, it's becoming super desperate as the day gets closer and taking a random person whom you vaguely know or are not even remotely interested in. There's nothing more awkward than going with someone whom you are barely acquainted with and making excruciating small talk as you try to bear through the night. Your evening of fun might just plunder if you fall into the hole of utmost desperation.
If anything, go with a group of friends and relish in the moments of the evening together by making reservations at a tacky restaurant, taking cheesy group photos, and dancing the night away on your painfully-calloused feet. There's no doctrine that states that you need to have a date to prom in order to have a good time.
Ultimately, your prom experience is what YOU make out of it, whether you have a date or not. Don't give into the expectations of the clichéd prom night by trying to find that Cinderella or Prince Charming to escort you. Make the evening memorable by letting loose and basking in the exhilaration of the night with the ones who are truly important. So all the single ladies (and lads), put your hands up and have a wild time!