Sweet Magnolia's Season 2
Netflix Original renewed for another season
Sweet Magnolias: A Netflix original, was renewed for a second season and was released on Feb. 4. With a mix of Gilmore Girls and This is Us, Sweet Magnolias shares a heartwarming story of a small town in Serenity, S.C. Originally a book series following a close knit trio who navigate the ups and downs of everyday life as well as parenthood, this show brings a different perspective to small town life. 
SEASON ONE RECAP: SPOILERS AHEAD
In season one we're introduced to "The Sweet Magnolias." Maddie Townsend, Dana Sue Sullivan, and Helen Decatur, all grew up with one another and formed a close bond in which they all end up back where it all started, Serenity. With developing a new business together to "Pouring it Out" every week, these best friends know anything and everything about one another. But each character is complex in their own way and creates a story in which many can relate to. 
Maddie Townsend is the talk of the town. With an ongoing divorce with Bill Townsend, Maddie and the kids, Tyler, Kyle, and Katie, have to guide themselves through life in a gossip filled town. As the school year is starting up again, a new coach is brought to Serenity in hopes of a championship win. Cal Maddox, a former Braves baseball player, quickly becomes entangled with Maddie but she can't seem to put in all her effort with Bill and Noreen's new baby on the way. With the struggles of co-parenting and trying to decipher her feelings for this heartthrob, Maddie finds it hard to balance her personal life with staying on track for the kids.
Dana Sue Sullivan is a caring single mother who knows what she wants. In season one, we don't get to get a deeper understanding of who she really is. Some may even say she is the "forgotten one" in the trio. Dana Sue cares deeply about everyone around her and is truly empathetic about everyone's situation. Although she is quick tempered especially with her daughter, Annie, Dana Sue truly an inspiration to all of us as to what we want to be. As she finds herself in a love triangle with her ex-husband and her produce farmer, Dana Sue struggles with what she wants to choose. 
Helen Decatur is a hard working lawyer. With her mind set on helping others she quickly forgets about what she wants. Helen is known as the hopeless romantic who also has a love triangle going on. As her ex-boyfriend comes back to town, Ryan and Helen quickly become fond of each other once again. But as a new sous-chef comes into town, Eric and Helen find comfort with one another. 
At the end of the first season we are left with a cliff-hanger. With Kyle slowly going down a spiral, he finds himself angry at everyone around him. With ups and downs throughout the town, the Sweet Magnolias show the true meaning of family without blood relation. 
WHAT TO EXPECT FROM THIS NEW SEASON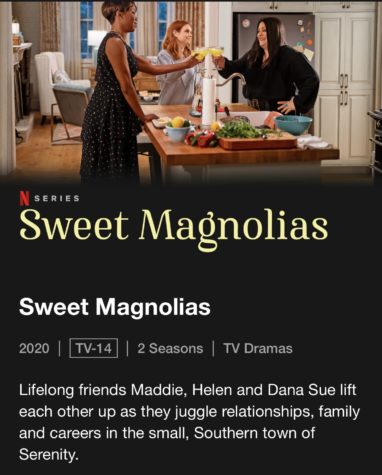 There are no words to describe how amazing this show is. With 10 episodes in each season, this show is truly the perfect show to binge watch. As I watched this new season, I never knew what was going to happen next. We get to have a deeper understanding of Dana Sue, see Maddie make her choice, and see Helen find herself once again. This show revolves around the aspect of growth and making personal choices. We see the hardships of Kyle dealing with the grief of his accident, Tyler with a summer without baseball, and Annie creating a relationship with the town's "bad boy." This show has something for everyone. 
So if you're wondering what I would rate this show, I would give it a 4.2 out of 5 stars. I loved everything about following a small town and creating meaningful moments with one another while also drama and romance. If you are a fan of rom-coms and drama this would be a great show for you.