2014 Winter Classic at Michigan Stadium sold out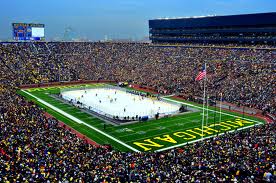 Hockey fans might witness the highest attended NHL game in the league's long history January 1st at Michigan Stadium in Ann Arbor for the Winter Classic between the Detroit Red Wings and the Toronto Maple Leafs.
According to the NHL and executives for the Detroit Red Wing, only single seats are available Tuesday. This will be the second hockey game played in the "Big House," where Michigan and Michigan State set a hockey attendance of 104,173 in 2010, surpassing the previous record of of 77,803 at the IIHF World Championship on May 7, 2010 at Veltins-Arena in Germany.
"We're looking forward to 107,000-plus people up there," said Red Wings president and CEO Tom Wilson on USA Today.
Wilson has also said that 120,000 tickets have been sold for the outdoor hockey games at Comerica Park in Detroit. The games include the alumni game between both teams, the Great Lakes Individual tournament, and two OHL games that features the Saginaw Spirit and the Plymouth Whalers.
According to Kellie Woodhouse of MLive.com, the University of Michigan's governing board as agreed to temporarily lift the ban of alcohol for the event, as well as allowing fireworks at the stadium.
"It will further enhance the fan experience for this unique and historic event," U-M CFO Tim Slottow said.
According to the NHL, the league will begin turning the "Big House" into a hockey venue by December 2nd.
"In every respect, the Winter Classic in Hockeytown is going to be the biggest one ever and probably forever," said NHL chief operating officer John Collins.