RHS celebrates all things homecoming
Homecoming is just days away, and RHS Falcons are preparing for this busy week
Mariam Hanna, Lifestyles & Entertainment Editor
September 25, 2018
In the weeks leading up to homecoming, senior and StuGo president Julia Payne, along with the rest of the RHS student government, tried to bring everything together and make homecoming an enjoyable experience for students.
"We have the dance committee, the pep assembly committee," said Payne.  "[We are] just making sure that people are clear about their directions and making sure people are advertising for homecoming."
Homecoming week began on Monday, Sept. 24 with hallway decorating night and the start of spirit week. Spirit week will continue throughout the week, and lunch time games will be played every day. The homecoming prep continues throughout the week, and on Thursday is the RHS homecoming pep assembly. The long awaited game against Harrison High School is on Friday night, and this busy and, as Payne said, fun filled week wraps up with the homecoming dance on Saturday, Sept. 29.
"I'm excited for a good week," said Payne. "I'm just trying to be positive and make it the best."
Every year, the student government chooses a theme for homecoming. The theme for this year is "Decades", and it influences the spirit days, decorations, and homecoming t-shirts.
"As a student council, we have brackets. So we do between two themes, and we come off with 16 themes and then we bracketed them off," said Payne. "We kind of go down to two themes. Then, last year, during lunches, we went around and kind of voted and asked people what they thought of them. So, the whole school had their input into our theme."
In years prior, tickets to the homecoming dance cost $20 until the week of, when they switched to $25. This year, however, tickets are priced at $25 and change to $30 later on. 
"All three high schools [in the district] saw that there has been so many people going to homecoming that we decided it didn't matter the price, people would still go," said Payne. "So, all three of our schools decided we'd up the price this year."
While many of the students at RHS say they get hyped up for homecoming week because of the activities leading up to it, Payne believes this is different for student government members. According to her, what excites them is seeing everything come together.
"I think that the most exciting thing for me is just going to be to see everything come together. We have the pep assembly, we have the halftime game, we have lunchtime games, crowning elections, the dance," said Payne. "Just seeing everyone is student council's hard work coming together with decorations and seeing it all displayed is going to be super exciting for me."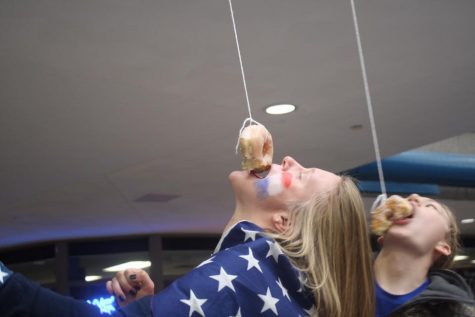 According to Payne, planning for an event that has so many parts, like homecoming, is both fun and stressful.
"I think the most stressful part of planning homecoming is making sure everyone is on the same page," said Payne. "Every week, we have a formal Friday to make sure all the committees are on the same page because everyone is doing different things."
Although the RHS student council president is one of homecoming leaders, she is also going to the dance as a last time attendee.
"This year, since I'm a senior, its kind of really surreal that its gonna be my last year," Payne said. "So, I'm trying to just make it the best year, be involved more in the spirit days, make sure everyone is involved in the spirit days, get excited."
Rochester High School is known for its students' participation in spirit days. This year, Monday is tie-dye day, Tuesday is neon day, Wednesday is Vine/Meme day, Thursday is class homecoming t-shirt day and Friday is lights out day.
"I've heard that everyone is really into the spirit week," said freshman and first time homecoming attendee Shelby Gibson.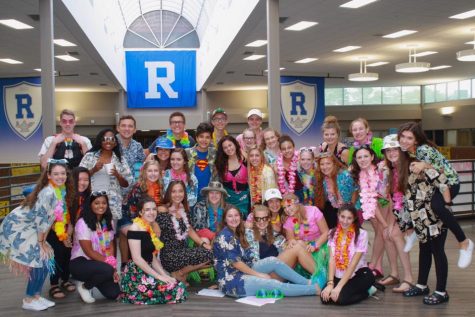 According to Gibson, freshmen and others who have not been to homecoming are looking forward to the big night.
"I got my dress, I made appointments to get my hair and stuff done, and I made a group to go with," Gibson said. "We got dinner reservations, and are figuring out where to take pictures."
As Gibson notes, homecoming can be both exciting and nerve racking, especially for first timers.
"I'm excited to experience it for the first time," Gibson  said. "[But] everyone making fun of my dancing [makes me nervous]."
Payne and Gibson are both looking forward to homecoming, and they agree that it is time for RHS Falcons to get ready for it!
"I'm also just excited for getting to dress up and getting to experience everything for the last time," said Payne.