Students and staff debate about the merits of backpacks, purses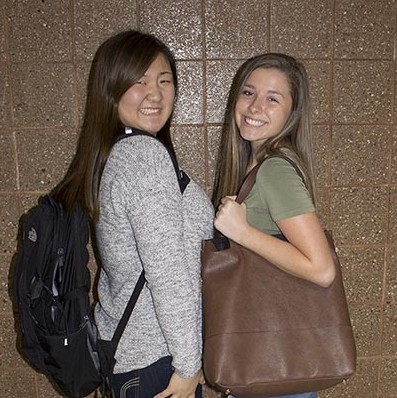 Sophomore Maddie Arsenault takes a moment out of her morning to prepare her school supplies. She breathes a sigh of relief upon remembering that she doesn't have to spend time transferring necessities, like her wallet or car keys, from a purse, since she does not use a separate bag outside of school. Although backpacks are the more traditionally known way for school supply transportation, carrying a purse has become more and more common around school. Some students, like Arsenault, find that a purse is a better fit for them than a backpack.
"I carry a purse with me during school because I don't carry that much with me around school," Arsenault said. "It's just easier for me to carry my purse than a big backpack that would have a lot of empty space in it."
The good old fashion backpack is a perfect way to carry heavy textbooks and classroom assignments. Freshmen Ally Khalaf choses to carry a backpack over a purse.
"I find a backpack more convenient than a purse because it can carry more things and you don't have to keep pulling it up on your arm," Khalaf said. "For carrying a backpack, you can just put it on your back and if you're carrying a purse you have to put it on your shoulder."
The large amount of textbooks and binders required during school can start to weigh students down regardless of the bag they choose. However, unlike Khalaf, math teacher Sue Zaleski is a purse carrier that believes a purse is more convenient than a backpack.
"I don't have any thoughts regarding whether students bring a purse or backpack," Mrs. Zaleski said. "But I do feel that many students carry too much weight which is potentially harmful to their posture and health."
Backpack carrier sophomore Allen Johnson talks about his understandings on the advantages of carrying a purse around school.
"If a girl's carrying a purse I don't really care. I mean like, they got all their stuff on them so they can take their homework home and still have all their money and all that in it," Johnson said. "Guys, you know, just dont usually put their money in their backpack, because it's easy to get stolen from."
Besides convenience, one bag might just be more visually appearing over the other depending on one's fashion taste. When considering fashion, especially for school, affordability is a big factor to keep in mind.
"I was just debating on whether or not I should start carrying a backpack again, but then I got a new purse and there was no thought in my mind about a backpack anymore," Arsenault said. "You rarely ever see a backpack that's fashionable or trendy or cute but there definitely are a lot of purses that are. Also you can find good quality purses that are cheap and look nice, but I haven't seen many backpacks like that. They can get pretty pricey if you want a good quality one."
Some might say that carrying a purse around high school is out of place. Khalaf disagrees with this.
"A purse is more fashionable because you don't carry around a backpack if you're going somewhere nice," Khalaf said. "It's not really out of place to carry a purse because it's just what people prefer."
Purses are not only just a fashion statement, but can make you look more presentable. Arsenault talks more about why she prefers a purse.
"Unless you get an all black backpack they will never go with every outfit," Arsenault said. "I feel like backpacks make your outfits look less put together. I know we're in high school and that doesn't matter to most people, but it does to me. You meet a lot of people in high school, not just your peers but also teachers, coaches and administrators. Appearance and first impressions can mean more than you think."