Undefeated Varsity Cheer Team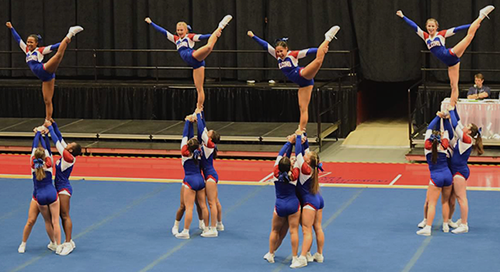 Three rounds, seven stanzas, two-three minutes, one-two competitions/games every week, conditioning and two-three hour practices for five-six days a week, is what a normal life of a cheerleader looks like. The Rochester Varsity Cheer Team is currently undefeated after eight competitions and counting. The Varsity Coach, Susan Wood, has been coaching for Rochester's Varsity Cheer for 35 years and counting. Coach Wood has brought to RHS 17 State Championships and she keeps building the program bigger and bigger, along with all the traditions they have had since the beginning.
"We don't have any defense in our sport we only have offense," Wood said. "We can only work on our offense [and] we can't do anything about a highly, highly talented team if they are gonna be great, they are gonna be great and we just need to respect that and so we focus on cleaning up our routines more and more each week."
Senior, Allison Surinck, a cheerleader who has been on Varsity for three years now, explains how excited she is for the extremely important competitions coming up.
"I am so excited for districts and regionals coming up," Surinck said. "This is the most exciting time of the season and it is also the most intense!"
Junior, Megan McMurray, has been on varsity for two years now. This is her first season that she will be undefeated and she is explaining how her team does it.  
"Being undefeated is something that's never happened to me in this cheer program," McMurray said. "Some of my teammates have had undefeated seasons, and I'm so happy we've got this streak going."
McMurray says that it's not easy what-so-ever to keep the streak going of holding the title of being undefeated.
"It's all about how much our team wants to win," McMurray said. "If every girl gives 110% at practice and competitions, we can break through with a win, and so far we've done exactly that."
Junior, Zy Turner, talks about how it is very different competing against other varsity compared to JV considering it is her first year on Varsity.
"We have tough competition but we can only control our offense not our defense," Turner said. "However, it is important that we start each Saturday off forgetting about the past win and remembering what we need to do to win again."
Coach Wood was very surprised about how much talent there is inside of these new juniors on her team. She explains that it a competition isn't just how good it looks, it's about the little details that the judges need to see to add more/less points.
"Judges or officials are registered with the MHSAA and they have to be trained to know what to look for in each round," Wood said. "In some rounds there is more emphasis on the jumps, tumbling or the formation the precision the timing. There are different categories on the judging sheet."
Coach Wood continues to talk about the Judges and what they do.
"They know what mistakes to look for and they deduct accordingly, so you actually start with a solid score then the deductions happen," Coach Wood said. "To a spectator you may think they are just looking for girls with great facial expressions, smiling seems like all cheerleaders do, but they are really looking for some really detailed pieces in the routine."
Surinck confesses that her team has many distinct goals before this season is over. Each athlete on the team has individual goals for themselves, and they have overall team goals.
"We are trying to take one competition at a time," Surinck said. "Staying undefeated is a goal for our team however we take each Saturday at a time. States coming up is a thought I always have in my head. However we can not assume, we have to make it there first. Making it to states and bringing home a state title is our main goal this season!"
Turner interprets that being a part of an undefeated team is exceedingly challenging but in the long run it is a great feeling to have.
"Being undefeated is very hard for a varsity [team]," Turner said. "It feels great because our hard work is paying off and being seen in our scores [at every competition]."