Pistons Surge to Defeat Orlando 115-89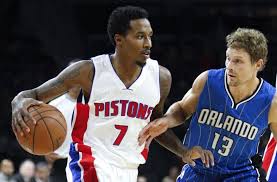 AUBURN HILLS, MI – Detroit was able to experience the play making ability of Brandon Jennings last night to the fullest, as the former starting point guard scored 17 points in a Pistons victory.
Detroit held the lead throughout the game, despite an Orlando Magic run early in the second half. The Pistons needed the victory after losing four of their last five.
Detroit exploded coming out for an enormous lead in the first quarter, but Orlando pulled slightly closer throughout the game. However, Orlando's efforts came up quite short, as Detroit dominated the game from the third quarter until the end.
Detroit was led in scoring by Kentavious Caldwell-Pope with 21 points, and Andre Drummond continued his dominant season with another double-double.
Orlando was missing point guard Elfrid Payton during the contest, while Detroit still did not have Jodie Meeks.
Detroit will play their next game against the Boston Celtics on Wednesday at the TD Garden in Boston.