Troye Sivan releases hit album, "Blue Neighbourhood"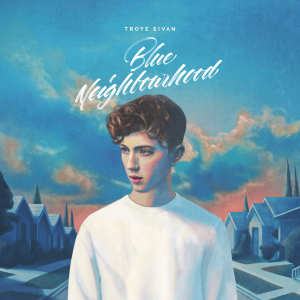 The twelve-year-old boy from Australia known as Troye Sivan could only dream about what his 20-year-old self would accomplish this year. Now that his first full-length pop album, "Blue Neighbourhood,"  has released, his loyal fan base has been impressed once again. After many years of posting his extremely popular "challenge" and "collab" videos on YouTube, his singing career has finally taken off, and his new album is the perfect starting place for Troye's already-successful name in music. The 16-song album consists of Sivan's heartfelt lyrics and incredible vocals, culminating in a fantastic set of songs overall. The two-part record was originally released as a six-song EP, as a sneak peek for what was to come. On Dec. 4, "Blue Neighbourhood" was released in it's entirety.
The most raved-about song so far, "Wild," has an easy-breezy feel, creating a lighthearted atmosphere to an adventurous set of lyrics. Sivan's smooth voice definitely adds to the sense of the song, and the crazy-in-love message is a relatable theme for some of  his teenage fans. The simple melody and creative use of sound makes this song a hit, and it represents the album perfectly.
Another playful track, "Youth," is about forgetting the world and acting young with the people you love, and just having a good time. The upbeat tune compliments his voice, and the overall sound is extremely cheerful, which embodies everything the song is.
As well as the more upbeat tracks, Sivan included the more down-to-earth songs as well, balancing the collection of melodies. The token "sad song" on the record is "Talk Me Down," which most evidently displays Sivan's vocal ability. The song is slow, but extremely enjoyable, considering the more downcast lyrics.
The song, "Fools," really brings something new to the table, including unique electronic aspects, trippy beats and upbeat melodies. From the start, the song may fool listeners, but the slow start soon turns into an uncharacteristic beat drop, adding a unique diversity to the other songs.
Along with Sivan's hard work and dedication, "Blue Neighbourhood" was made in collaboration with multiple other artists who compliment his style. Singers like Alex Hope, Allday and Betty Who can all be found on the album, being featured in a few of Sivan's songs. Along with vocal duets, there is also a remix of one of Sivan's more popular tracks, "Wild," that closes the album. The many collaborations only add to the sophistication and smooth execution of the record, and are one of the many things to look forward to on "Blue Neighbourhood."
The overall product is incredible, and Sivan is sure to stun listeners with his live shows after the album. The smooth vocals, unique melodies, and heartfelt lyrics are sure to hit home for listeners who hear Sivan's new album, "Blue Neighbourhood."