Rochester Falcon Marching Band
As the last month of fall comes to an end, there are many events to look forward to as Thanksgiving approaches, but the most extraordinary of all is the most popular parade in the country, announced by USA Today. 
The Michigan Thanksgiving Parade, now known as America's Thanksgiving Parade presented by Gardner-White, was founded in 1924 and has since grown to become one of the largest and most popular parades in the country. The Parade has been a unique show of fantasy, holiday spirit, and community enthusiasm for more than 75 years, and it has come to include more than 75 parade units, including floats, balloons, and marching bands. 
"There are usually 8-10 marching bands from Michigan and the Midwest. Calvin Johnson, former American football wide receiver for the Detroit Lions will be one of the grand marshals this year. Disney's Broadway musical The Lion King will be the opening act of the Parade with a performance of 'Circle of Life.' The Detroit Youth Choir amazed audiences on America's Got Talent and has since been on the world stage and will also open with The Lion King," Marching Band director Mr. David A. Uhrig said. 
Each year, thousands of people line the streets of Woodward Avenue on Thanksgiving morning to watch large floats, colorful balloons, amazing marching bands, and exciting specialty acts perform. The Parade is televised live annually on WDIV-local 4 with a potential national audience of over 65 million houses. The Parade embarks off the corner of Kirby and Woodward at 8:45 a.m. on Thanksgiving morning and is broadcasted live on WDIV Local 4 at 10 a.m. and on their website.
The Falcon Marching Band will be attending the 3.5 mile parade this year and will be playing 'All I Want for Christmas is You' by Mariah Carey. 
"I am excited but I hate having to wake up at 5 in the morning," trumpet player Giulia Orecchia said. 
The band members are looking forward to this day, since it gives them an opportunity to perform in front of a large crowd of people and be on the news.
"I am very excited for the parade because we're going to be on TV," clarinet player Carter Rupert said. 
The Falcon Marching Band is always striving to enhance every time they rehearse and perform. This parade will be a great place for the band to display their top-tier music and march in unison down Woodward Avenue in Detroit on Thanksgiving Morning. 
"The Falcon Marching Band continues to improve from year to year. This year specifically, they have such an incredible ensemble sound. They play with great dynamic contrast, and when needed, they can really play with a big, full sound," Mr. Uhrig said. "They also have improved in their marching technique and have learned more complex marching choreography than in past years."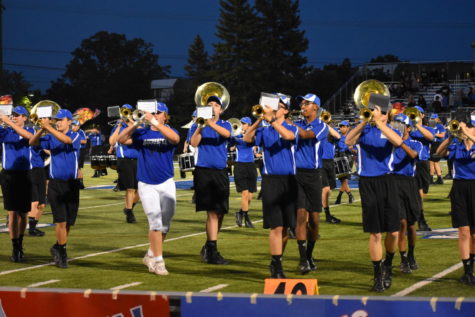 After months of growth and preparation, the Falcon Marching Band is ready to perform for the parade's 94th anniversary. Performing live in Detroit will leave unforgettable memories for the band members after they grew a strong bond over the time they spent together. 
"I think that this year's marching band is one of the best for the Thanksgiving day parade. We have been working non stop to make sure that everything goes well in this parade," senior drum major Owen Yoo said. "I think this allows us a great opportunity to showcase our talents and musicality to the entirety of Michigan and we are excited to perform on Woodward Avenue."