Varsity soccer team is heading to the playoffs
The Falcon soccer team finished off their regular season, with a 7-5-1 record, and are heading into the playoffs in hopes of making a deep run.
The team started off the season with three straight wins until dropping their first game to the tough Oxford Wildcats. The remainder of the season was met with ups and downs, as they won four more games and ended up fifth in the well respected OAA White league. Their wins included victories over crosstown rival Adams High School and defending state champions, Troy Athens High school. The Falcons will be matching up against their other crosstown rival, Stoney Creek High School, in the first round of the playoffs.
"We got a tough draw with stoney as our first game," senior captain Ben Morin said. "We are super strong this year, so I think this is a big challenge, but one we can overcome.
The team has been handling challenges and adversity well this year, as they have held a good mentality of always looking forward and not dwelling on a tough win or loss.
 "Our ability to put games behind us and only look at what is ahead of us has impressed me," Head Coach Chris Purgatori said Despite whether we win or lose, our team has done a great job at not letting our emotions get too high or low. After a win, we can be happy, but we know we have more work to do. After a loss, we don't let it affect us and we strive to be better the next day at practice or a game."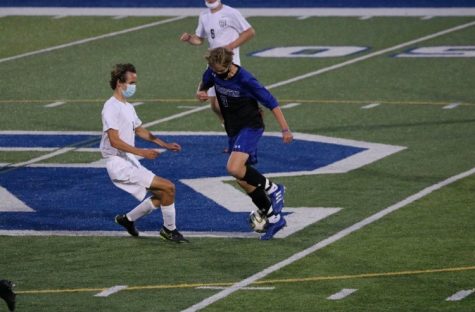 The Falcons have had a lot of success so far, which can be attributed to the players great work ethic and attitude of focusing on the team rather than the individual.
"Our willingness to work and get better everyday is a driving factor for our success," Coach Purgatori said. "The two sayings we use is that 'We want to be better today than yesterday and better tomorrow than today' and 'We play for the name on the front of our Jersey not the back of our jersey'. I think once kids bought into those two sayings, our success increased dramatically."   
As the team heads into the playoffs, the coach feels that they are starting to play at their full potential and are prepared for their playoff matchup.
"We are really starting to hit our stride. We need to continue to get better and we will,"  Coach Purgatori said.
The Falcon players have held a winning mentality all season and will be carrying that mentality with them into the playoffs.
"Everyone on our team wants to be remembered as the best, losing is not very fun," Morin said. "We take our losses, and use them to get better, so that it doesn't happen again"
The Falcons will be heading to Stoney Creek High School, on Wednesday, Oct. 14, to take on the Cougars in the first round of the playoffs. The game will be played at 7 p.m.