Review: Dino's Cookie Dough Bar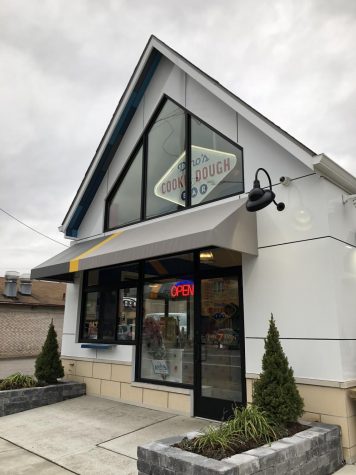 Inspired by the modern trends of bustling cities, Dino's Cookie Dough Bar opened its doors to the public on Sept. 7 of this year. What was once a family-run Greek Restaurant is now a new, modern location serving the newest dessert trend. They offer up to 16 flavors of ice cream and 15 flavors of cookie dough in any combination diners would like. Dino's Cookie Dough Bar is located on 111 E University Drive Rochester Hills, MI 48307 in Downtown Rochester.
The newly renovated building truly stands out with a clean white sheen, standing tall behind the Knapp's Donut Shop. The building has a modern finish with a "90s Diner" feel with the simplistic white colors accented with bright primary colors. The staff inside not only give a friendly smile and greeting, but they also keep the shop clean and tidy. There is also a large window along the back wall to watch the kitchen where the cookie dough is made.
While the new building with its minimalist design catches the eyes of passing people, when they're bringing out the finished product, they display tubs of ice cream and cookie dough. The employees will happily offer visitors a sample if requested. The bar features 15 cookie dough flavors, including a KETO option and a seasonal flavor such as "Pumpkin Spiced" or "Halloween". The cookie dough itself is quite nice, with a smooth texture and with the ingredients well mixed and dispersed. The location is clearly meant for younger crowds, so the bright colors and the episodes of"Spongebob Squarepants" playing on the televisions ensure a family-friendly environment for people of all ages.
Despite the welcoming atmosphere of the bar, the cookie dough may not appeal to all of those who visit. Over several visits, inconsistencies in the flavor the cookie dough were noticeable. Sometimes the cookie dough may be too sweet or too salty, or the scoop sizes may vary way too often. This would often result in customers tossing it out.
Dino's Cookie Dough Bar still holds promise, for it hasn't even stood for a year yet. While the cookie dough may have inconsistencies, it still has a wonderful flavor and brings enjoyment to families who enter. Regardless of its flaws, anyone who has a sweet tooth or who's never tried ready-to-eat cookie dough before will enjoy Rochester Hills's own little taste of the big cities. 
Overall Rating: 4/5