APUSH and AP Gov take on Boston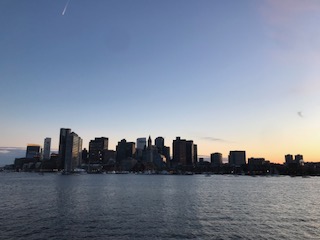 On May 12-15, students from Rochester's AP US History and AP Government classes went on a trip to Boston, Massachusetts. They explored the city of Boston and went to sites that were important to the Revolutionary War like the Bunker Hill Memorial and Boston Harbor where the Tea Party took place as well as the town of Salem where the infamous Salem witch trials occured.
"Boston has such rich American History," Social Studies teacher Mr. Chad Zwolinski said. "It's the birthplace of the Revolution and I thought it would be a great way to reinforce the concepts we learned in our course."
The trip was also a good review of the material students learned in their social studies classes earlier in the school year.
"Everything that our tour guides talked about, I had learned in the class," sophomore Sophia Pryka said.
"Knowing the information prior to the trip made it way easier to understand the importance of each historical place we visited."
Students were immersed in learning about the important people of the Revolutionary War.
"I learned that Paul Revere didn't really shout 'The British are coming'," sophomore Aryn Gallacher said. "He didn't even finish the whole journey."
While the trip taught the students about the prominent figures in early America, it also focused on the rich history of Boston.  
"I learned a lot about the city of Boston and how significant it was during the American Revolution,"  Pryka said.
Students travelled throughout the Boston area to see some historical sites like Salem, Plymouth, and the site of the famous battle at Lexington and Concord.
"Plymouth Plantation [was cool] because it was highly interactive and it was fun to see all the people in the roles of the colonists and natives," Gallacher said.
They also went on a boat tour of Boston Harbor at night, which was a fan favorite.
"My favorite part of the trip was when we went on the boat cruise because we saw the whole skyline of Boston," Pryka said.  
There were some complications with airport delays, but the students and staff made the best of the situation.
"The sophomores never once complained during their nine hour delay," Mr. Zwolinski said. "I think we bonded over the experience – including the moment Mr. Deluca played catchphrase with everyone."
Even though there were difficulties getting home to Michigan,  the students enjoyed themselves.
"It was an experience to remember. I would 1000% recommend going on the trip," Gallacher said.