RHS welcomes next year's freshman class with 8th Grade Parent Night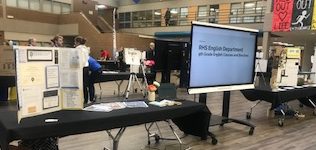 It is the night of March 14, 2018, and Mrs. Messing-Mirabito, a counselor at Rochester High, prepares for the arrival of parents of future RHS students. She, the other counselors, and Mr. Neil DeLuca have an informative night for curious parents.
The night is meant to be a time for explaining to parents of incoming freshmen the requirements to graduate high school and answer any questions that they might have.
"The purpose [is to] have parents come to Rochester High School and learn more about our graduation requirements, our curriculum, classes that we offer and welcoming them to Rochester High," Mrs. Messing-Mirabito said. "It's a transition year moving from middle school to high school. There are some unknowns, so it's really [meant] to educate parents [and] give them a lot of information about what high school might look like, maybe reduce some of the anxieties they might be feeling,"
The night starts with Mr. DeLuca giving a welcome presentation, then the parents will go with counselors to go into detail about graduation requirements.
"They start off in the auditorium where Mr. DeLuca will do a welcome," Mrs. Messing-Mirabito said. "At that point, after they meet with Mr. DeLuca in the auditorium they will split up [based off] their child's counselor, and then we will go over the graduation requirements and how to fill out that scheduling card and look at curriculum with those parents, answer any questions that they might have, and then we are done with them. We dismiss them and the go to the mall. In the mall there will be representation [from all the academic areas] so that parents can ask curricular questions."
The counselors have already taken the first steps to welcoming new student to Rochester High School.
"The first step is when counselors go to the Middle schools," Mrs. Messing-Mirabito said. "We were at middle schools this week and we went over the scheduling process, graduation requirements, [and] gave them their scheduling cards. We talk a little bit about the differences between Middle school and High school [and answer] any of the questions they might have. Things that they heard that we can clarify, any anxieties they might have, or things they're excited about. Then we do have the parent night, which helps bring the parents into the the mix. We'll go back the following week and we'll meet with students again to talk about their scheduling cards and talk a little bit more about High school."
9th graders will be welcomed into the school near the end of the summer for freshman orientation.
"In June we have the 8th grade lunch," Mrs. Messing-Mirabito said. "And then of course we have our 9th grade orientation, which happens during the registration days where they spend the whole day here in a small group with a mentor where they'll learn the fight song, about clubs, activities, they'll do some get to know you activities, they'll get their locker, their schedule, [and] their books."