Certified, Check!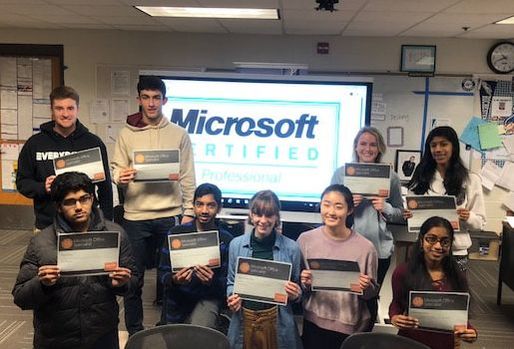 Rochester High School provides a program where students can certify in Microsoft programs, including Word, Excel, Powerpoint, Access, Outlook, Project and Sharepoint. Students can use this certification in the future in their college application and even job applications.
"The certification itself is something that is looked at by not only colleges but many businesses, " said Mrs. Dunneback. "So when you have this certification as a specialist or an expert or master you get a symbol that you can put on your resume."
The certification is open for anyone to attempt as long as Mrs. Malsbury and Mrs. Dunneback have leftover tickets, which they are given each semester so the students in their Computer Operations in Business can certify in Microsoft programs. Taking the certification exam requires no costs from the student.
The different levels of certification include Microsoft Office Specialist, Expert, and Master. Before taking the exams to be certified, there are multiple training tests and projects. If a student wants to certify they should contact business teachers Mrs. Dunneback or Mrs. Malsbury.
"We need to make sure that you understand the program and you take it to take it.  So honestly the best way to take is through the Computer Operations in Business class.  Because you have to do the initial training and then if you don't get through all the exams and you don't have more time and the semester ended you can continue", said Mrs. Dunneback.