JV Volleyball season recap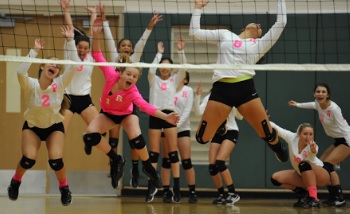 This year's JV volleyball team ended the season with a 6-3 record.
They started practicing in August. Official captains were not picked but there were teammates who helped lead the team.
"We didn't have captains this season,"  Brooke Coulter said. " We never voted but Gracie and Anna helped the coach a lot along with our manager."
In addition to the help from the captains, the team got ready for games with their pre-game rituals.
"We jammed out to songs and gave each other motivational speeches," Jesi Abolins said. " We also had dance parties."
Although the team had things they needed to work on, they had things they really enjoyed about the season.
"I really enjoyed my friends being on my team and spending time with them," Sidney Swart said.