Jagged Fork Restaurant Review
Where:  188 N Adams Rd, Rochester Hills, MI 48309
Hours:  Mon-Sun: 8AM-3PM
Call:  (+1) 248 710 3975
Fare and fees: The food on the menu ranges between $11 and $30, making for a nice medium between street food and a multi-star restaurant.
Wait for food: Like any popular brunch spot, The Jagged Fork could have anywhere from a 15 minute to an hour long wait to be seated, but the service was quick. However, something off putting was the scramble to fit all parties at a table, taking chairs back and forth from the waiting area, which caused a bit of an awkward time waiting to be seated. Drinks came within three minutes of ordering, and food came shortly afterwards. The total time waiting for food was around 15 minutes.
Ambiance: Something that was instantly noticeable about the restaurant was the cleanliness and visibly modern decor. The walls and flooring were both extremely light in color, giving the place a roomy feel, even more so than it is to begin with. The booths and tables are nicely spread out, and the large windows in the front let in an abundance of natural lighting, allowing for a more upbeat and fresh ambiance.  
Chow down: The meal I ordered was titled the "Cloud Nine" which was priced at $12. It consisted of three crepes filled with strawberry cream cheese, strawberries, blueberries and bananas, and was topped with berries, berry compote, powdered sugar, and whipped cream. Another dish I tried was the called "Voodoo":  an eggs benedict with guacamole, chorizo, cheddar cheese, and salsa verde. This costs $12.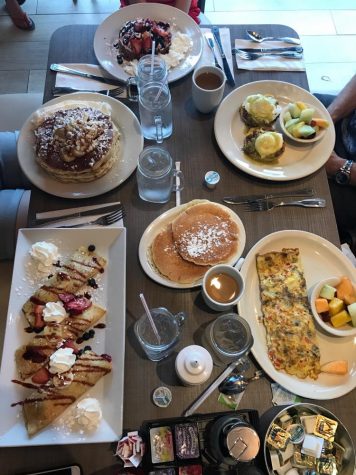 Well, how was it? The Cloud Nine was not only delicious, but extremely filling. Being as sweet as it was, two crepes were enough for me, but they were worth every bite. The filling was even, the whipped cream was minimal, and there was a good amount of berries on top; however, I would have preferred more compote. Besides this minor note, the meal was incredible. The eggs benedict was surprisingly pleasing as well, despite the unappetizing ingredients list. It was spicy, rich, and filling, and could easily be eaten as a savory lunch or breakfast.  
Other stuff I wanted to try: Having such a wide range of choices, it was hard to choose an order, but something I skimmed past was a french toast dish called, The Elvis, which was graham cracker french toast stuffed with peanut butter, banana cream cheese and bacon, topped with fresh bananas and berry compote. It was priced at $12.
Final word: Overall, the Jagged Fork was a major success, and with the combination of good food, a comforting ambiance, quick service, and just a minor setback in terms of seating space, this restaurant is receiving a 4.5/5.