Is Baldwin's Trump Act Getting Old?
On Oct. 1, Alec Baldwin introduced audiences  to his hilarious impression of then Republican presidential candidate Donald Trump on Saturday Night Live. But as of Feb. 11, Baldwin hosted SNL for a record breaking seventeen times, and the Trump impression continues. While some argue that the parody is still funny, others feel  that it is starting to be overused.
Junior Theodore Kurokawa believes  that the parody is starting to get old.
"While I think the Trump parodies are funny from time to time, SNL relies too much on them," said Kurokawa. "Now, a good portion of every episode is Trump related, to the point where I'm just tired of seeing them.While the things SNL makes fun of for Trump does make sense, the volume in which they do so is too much. Because he says and does so many things, he's an easy target, and SNL really takes advantage of this."
Kurokawa expands by determining whether or not the parody is out of line.
"There is nothing at all wrong with making jokes about our government," Kurokawa said. "It's a part of our freedom of speech, and we can and should speak out when there's something that we disagree with or just find ridiculous. Comedy is a way to express these feelings in an entertaining way." Kurokawa adds, "The best Trump sketch was the first presidential debate. I had watched the actual debate beforehand, so the sketch was even funnier when seeing the comical way that they showed how both candidates acted."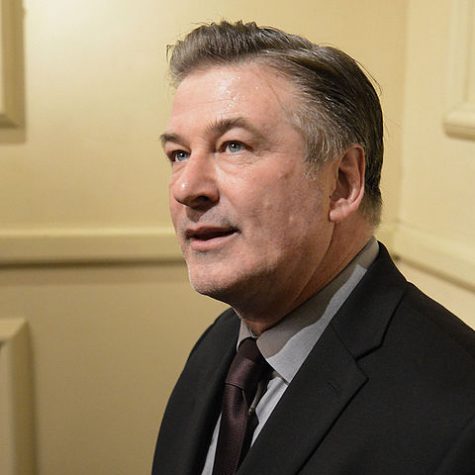 Junior Eric Gaisser agrees with Kurokawa on his stance on the parody.
"I think it's funny but a bit overused," said Gaisser. "Yes, if people can mock serious things on television and movies, then it shouldn't matter what we say about the government on TV."
According to USA Today, Alec Baldwin is even considering quitting the parody soon because he too believes it's getting old. USA Today even wrote about an interview Baldwin had with Extra, in which he stated why he plans to quit soon.
"'Trump just overwhelmingly lacks any sportsmanship, he remains, bitter, and angry, and you just want to look at him and go, 'You won!'" Baldwin said to host Mario Lopez. "'His policies aside, which you can hate, I thought he would have just relaxed. The maliciousness of this White House has people worried … that's why I'm not going to do it much longer, the impersonation, I don't know how much more people can take it.'"
However, CNN gives reason for Baldwin's parody going on for so long and that parody does have a place in politics.
"Baldwin's take on Trump this season has not just seemingly angered the president, but has arguably given new relevance to the variety series, which is in its 42nd season," Frank Pallotta wrote. "So far this season, SNL is averaging 7.4 million viewers an episode, according to NBC. Add in those who watch within a week and that number jumps to 10.6 million, 'SNL's' biggest audience in 22 years."
Pallotta adds the expert opinion of Bill Carter as explanation for SNL's extensive coverage on Trump.
"Bill Carter, the CNN analyst who has written two books about late-night TV and covered SNL extensively for The New York Times for decades, feels that this is because Baldwin knows Trump is watching and is doing a satirical caricature of Trump rather than an goofy impersonation."
Carter gives the following statement in the article.
"'They see the Trump administration as now an entire cast of comic characters,' Carter said. 'I think Saturday Night Live is taking up the mantle of being the voice of the opposition. The administration said it was the media that was the opposition and Saturday Night Live looks like they are taking that seriously.'"