BRIEF: Men's soccer team becomes regional champions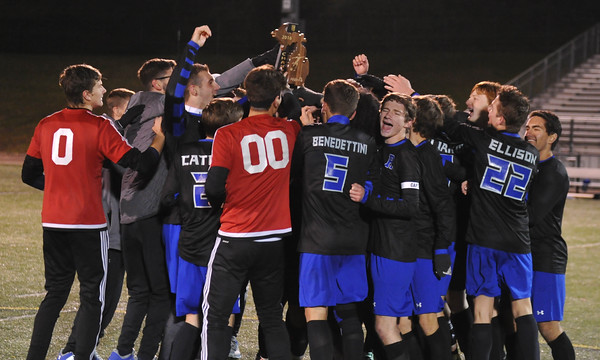 On Oct. 27, the Men's Soccer team played against Grand Blanc High School for the Regional Championship title. The Falcons won 1-0 against the Bobcats with a goal from Grant Ellison in the second half.
"In the first half, it was kinda nerve-racking because they had a lot of chances, but then once the second half started, we started to play better," junior Grant Benedettini said. "When we scored that felt amazing. I felt like we had a lot of momentum at that point and I was sure we were going to win."
The emotions after the game were running high as the team celebrated their victory. Benedettini further elaborates on the pride and excitement he shared with his teammates.
"Everyone was just really happy. It was a really good feeling. No one really expected us to get out of the districts and we won the district and then we won the regional too so it was a great feeling"
The team has goals of becoming state champions as well, and are working toward that success.
"We definitely have a chance at winning states," Benedettini said. "We just need to take it one game at a time."